Interactions between heavy metals and ectomycorrhizal fungi : identification of genes involved in the cadmium response in Paxillus involutus
Etude des interactions entre métaux lourds et champignons ectomycorhiziens : mise en évidence de gènes impliqués dans la réponse au cadmium de "Paxillus involutus"
In vitro tolerance test of ectomycorrhizal isolates from heavy metal-polluted and non-contaminated soils revealed strong intra- and interspecific variations. Moreover, there was no relationship between metal tolerance of isolates and metal concentration at the collection site. Molecular mechanisms underlying the response of the fungus Paxillus involutus towards cadmium have been characterized. We combined suppression subtractive hybridization and cDNA macroarrays hybridization to identify genes whose expression was modulated by cadmium. We screened arrayed cDNAs to identify cadmium-responsive genes by using differential hybridization. A cDNA encoding a superoxide dismutase was cloned from a cDNA library, the encoded protein was presumed to be localized in the peroxisomes. Complementation of a E. coli SOD null strain indicated that the cDNA encode a functional SOD. Monitoring SOD transcript, immunoreactive polypeptide and activity suggests that the level of control is post-tanslational.
Des tests de tolérance aux métaux lourds d'isolats ectomycorhiziens provenant de sites pollués et non pollués ont permis de montrer de fortes variations intra- et interspécifiques, ainsi qu'une absence de corrélation entre l'origine des isolats et leur degré de tolérance. Les mécanismes moléculaires impliqués dans la réponse du champignon Paxillus involutus au cadmium ont été caractérisés. L'utilisation d'une méthode d'enrichissement en ADNc correspondant à des gènes différentiellement exprimés, suivie d'une analyse en masse de l'expression génique nous a permis d'obtenir une vision globale des gènes régulés. Un ADNc (issu de criblage de banque d'ADNc) codant une superoxyde dismutase a été caractérisé, sa fonction démontrée chez une bactérie SOD-déficiente. L'analyse de la séquence peptidique révèle une probable localisation peroxysomale. La production hétérologue du polypeptide a permis de synthétiser des anticorps. Nous avons montré que le niveau de régulation est post-traductionnel.
Fichier principal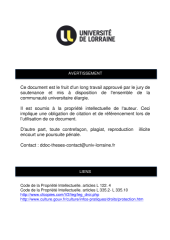 SCD_T_2001_0184_JACOB.pdf (10.08 Mo)
Télécharger le fichier
Origin : Files produced by the author(s)