Architecture logicielle pour la simulation des transferts radiatifs
For a few years, research in image synthesis is built on more forma.! physical and mathematical foundations. Our own team focus on the modeling of radiative properties of surfaces and on the simulation of radiative transfers between those surfaces, through the use of nnite elements. This evolution opens some MW application nelds, especia.!ly in lighting engineering. The present report exposes an object oriented framework, designed to facilitate research in the above nelds and the production of software prototypes. The framework includes a library of abstract classes, deduced from the transfer equation. It aIso relies on a system of nIes and programs modelled from the tasks and steps of a simulation. Through various research projects and several applications, we demonstrate the qualities of the framework, espedaly in the evaluation of new models of light emission and reilexion. Finally, we examine the defects in the representation of algorithms and in the use of the object paradigm.
La synthèse d'images est fondée depuis quelques années sur des bases physiques et mathématiques plus rigoureuses, notamment la modélisation des propriétés radiatives des surfaces et la simulation par éléments finis des transferts radiatifs entre ces surfaces. Une telle évolution permet d'envisager de nouvelles applications industrielles, en particulier en ingénierie de l'éclairage. Ce mémoire présente une architecture logicielle à base d'objets, conçue pour soutenir la recherche dans les disciplines évoquées ci-dessus et faciliter le développement de prototypes industriels. Elle repose d'une part sur une bibliothèque de classes abstraites tirées de l'équation de transfert, d'autre part sur un système de fichiers et de programmes calqués sur les étapes et les taches d'une simulation. A travers différents projets de recherche et plusieurs applications, nous montrons comment notre architecture a été mise en u?vre avec succès, en particulier pour évaluer de nouveaux modèles d'émission ou de réflexion de la lumière. Nous discutons également ses lacunes dans la représentation des algorithmes et la mise en u?vre du paradigme objet.
Fichier principal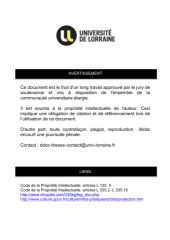 SCD_T_1997_0254_CHAMONT.pdf (8.9 Mo)
Télécharger le fichier
Origin : Files produced by the author(s)