Thérapie photodynamique ciblant la vascularisation tumorale par l'adressage du co-récepteur neuropiline-1 : Vers l'élaboration de peptides biologiquement plus stables
Photodynamic therapy (PDT) is a treatment modality against small localized tumors, based on the combined action of a photosensitizer (PS), light and oxygen. A new method of PDT, the VTP (vascular targeted photodynamic therapy) was studied. The purpose of our strategy is to promote the anti-vascular effect of PDT by targeting the tumor vasculature. We studied the behaviour of the tetraphenylchlorine (TPC) conjugated, via the Ahx spacer, to a VEGF co-receptor (neuropilin-1) specific heptapeptide (ATWLPPR), in vitro and in vivo. A comparative study of TPC versus the conjugated PS, TPC-Ahx-ATWLPPR, allowed us to identify in vitro, using a technique of RNA interference-mediated silencing of NRP-1, a receptor-dependent uptake of the conjugate. In vivo, a preferential accumulation of TPC-Ahx-ATWLPPR in endothelial cells and its anti-vascular effect were demonstrated. A study of stability in vitro and in vivo of the conjugate was conducted. In vivo, the peptide sequence was degraded 4 h after intra-venous injection. Pharmacokinetics and tissue biodistribution studies of TPC-Ahx-ATWLPPR and its main degradation product, TPC-Ahx-A, was performed in bearing nude mice. The degradation process of the peptide is important in the organs of the reticulo-endothelial system, where the accumulation of the conjugate is majority. In order to improve in vivo stability of the targeting-peptide, new peptides were design and tested. The pseudopeptide A[psi] [CH2NH] TWLPPR bound NRP-1, and after coupling with the PS, no degradation is observed in plasma in vivo 4 h after intra-venous injection.
La thérapie photodynamique (PDT) est une modalité de traitement des petites tumeurs localisées, reposant sur l?action conjuguée d'un photosensibilisateur (PS), de la lumière et de l'oxygène. Dans le cadre d'un nouveau mode de PDT, la VTP (vascular targeted photodynamic therapy), notre stratégie a consisté à favoriser l?effet anti-vasculaire du traitement par ciblage de la néo-vascularisation tumorale. Pour cela, nous avons étudié in vitro et in vivo un PS de type chlorine (TPC) couplé, via le bras espaceur (Ahx), à un heptapeptide (ATWLPPR) spécifique d?un co-récepteur du VEGF, la neuropiline-1 (NRP-1). Une étude comparative de la TPC versus le PS conjugué (TPC-Ahx-ATWLPPR), a permis de mettre en évidence in vitro, grâce à une technique d'ARN interférence visant à éteindre l'expression de NRP-1, une incorporation cellulaire récepteur-dépendante du conjugué. In vivo, l'accumulation préférentielle de la TPC-Ahx-ATWLPPR au niveau de l'endothélium vasculaire de la tumeur ainsi que son effet anti-vasculaire après PDT ont été mises en évidence. Une étude de stabilité in vitro et in vivo du conjugué a été réalisée. In vivo, la séquence peptidique est dégradée 4 h après injection par voie intra-veineuse. Des études de pharmacocinétique et de biodistribution tissulaire de la TPC-Ahx-ATWLPPR et de son principal produit de dégradation, TPC-Ahx-A ont été réalisées chez la souris nude xénogreffée. La dégradation de la partie peptidique est majoritaire dans les organes du système réticulo-endothélial où l'accumulation du conjugué est la plus importante. Dans le but d'augmenter la stabilité in vivo du peptide adresseur, de nouveaux peptides ont été synthétisés, puis couplés à la TPC et testés. Le pseudopeptide A[psi] [CH2NH]TWLPPR est prometteur car il reste affin vis-à-vis de NRP-1 et après couplage au PS, il ne subit aucune dégradation dans le 8plasma in vivo 4 h après injection par voie intra-veineuse.
Fichier principal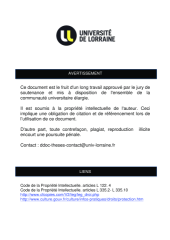 SCD_T_2009_0019_THOMAS.pdf (4.34 Mo)
Télécharger le fichier
Origin : Files produced by the author(s)