Preparation and characterization of mesophasic carbon materials enriched in nitrogen :
The production of carbonaceous material enriched in nitrogen was done by several ways :1) by copyrolysis of mixtures coal tar pitch/ polymer (PAN and PVP) and 2) by ammoxydation of mesogenic carbonaceous material. By copyrolysis, the thermal behaviour of the blends has been more especially studied by TGA and on line gases analysis. In this case, we have demonstrated that the pitch play the role of radical scavenger during the thermal treatment. The XPS study of the produced solids shows the strong evolution of nitrogen functional groups according to the temperature. The optical texture of the solids have also been determined and discussed. By ammoxydation, we have demonstrated that the resultant solids have nitrogen surface functional groups. These groups were identified and quantified by XPS and infra red spectroscopy (in diffuse reflectance mode). Finally, some electrochemical properties of the studied solids are described and discussed.
La préparation de matériaux carbonés enrichis en fonctions azotées à été faite par plusieurs voies : 1) par copyrolyse de brais de houille et de polymères azotés (polyacrylonitrile ou polyvinyl pyridine) et 2) par ammoxydation de matériaux carbonés mésophasique. Dans la première voie (copyrolyse) nous avons plus particulièrement suivi le comportement thermique des mélanges polymères/brais en précisant les mécanismes des transformations par ATG (avec analyse des gaz). Dans ce cas nous avons précisé les phénomènes indiquant une interaction entre le précurseur carboné (brai) et le polymère. Nous avons ainsi montré que le brai joue un r©ole de stabilisateur de radicaux durant la pyrolyse. L'étude XPS des solides obtenus a montré que les fonctions azotées évoluent sensiblement en fonction de la température du traitement. Les textures optiques des solides sont également décrites et discutées. Dans la deuxième voie (ammoxydation) le traitement de matériaux carbonés mésophasiques par l'ammoniaque conduit à des matériaux fonctionnalisés en surface. Les principales fonctions azotées ont été déterminées et quantifiées. Quelques applications en électochimie des produits obtenus sont enfin décrites.
Fichier principal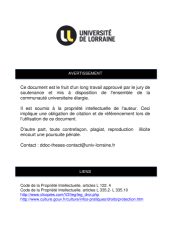 Grzyb.Bartosz.SMZ0328.pdf (14.01 Mo)
Télécharger le fichier
Origin : Files produced by the author(s)