Textures, microstructures et propriétés mécaniques d'alliages de zinc en feuillards et en revêtement :
In order to improve the cracking resistance, a new rolling process is explored for bulk zinc sheets and galvanized zinc sheets. It deals with asymmetrical rolling and asymmetrical skin-pass rolling. This type of rolling clearly changes dramatically the texture of zncuti whereas in the case of galvanized coating the texture is modified to a slight extent only. This is explained by the fact that the reduction ratio is large in rolling (ranging about 50%) whereas it is small in the skin-pass rolling (ranging about 2%). In this part results obtained by the simultaneous use of the taylor model for the prediction of textures, associated to the flow line model, are compared to the experimental results. The follow-up of the texture evolution during the deformation makes it possible to validate a posteriori the various assumptions made in the models of plasticity.in the last part, the study of the grain boundaries characteristics, in particular the misorientation through the grain boundary, completes the study of the mechanisms involved in the plastic deformation and cracking, in order to specify the role of the texture (intragranular cracking or cleavage are determined by grains orientation) and the grain boundaries characteristics (misorientation across grain boundary determining intergranular cracking). This study is carried out on zinc coatings in order to correlate cracking behaviors to the orientations and misorientations of grains.
En vue d'améliorer la résistance à la fissuration, un nouveau type de laminage est exploré pour le zinc massif et les tôles revêtues de zinc. Il s'agit du laminage asymétrique et du skin-pass asymétrique. Ce type de laminage change nettement la texture du zncuti alors que dans le cas du revêtement de galvanisation la texture est peu modifiée. Ceci s'explique par le fait que le taux de réduction est important dans le laminage (de l'ordre de 50 %) alors qu'il est faible dans le skin-pass (de l'ordre de 2 %). Dans cette partie les résultats obtenus par l'utilisation simultanée du modèle de taylor pour la prédiction des textures, associe au modèle de ligne de courant, sont comparés aux résultats expérimentaux. Le suivi de l'évolution de texture au cours de la déformation permet de valider à posteriori les diverses hypothèses avancées dans les modèles de plasticité. Dans la dernière partie, l'étude des caractéristiques des joints de grains, notamment les désorientations à travers le joint, complète l'étude des mécanismes mis en jeu lors de la déformation plastique et de la fissuration, de façon à préciser le rôle de la texture (orientation des grains déterminant la fissuration intragranulaire ou clivage) et des caractéristiques des joints de grains (désorientations déterminant la fissuration intergranulaire). Cette étude est réalisée dans le revêtement de zinc afin de corréler la fissuration avec les orientations et désorientations de grains.
Fichier principal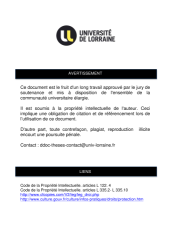 Vincent.Gregory.SMZ0413.pdf (10.14 Mo)
Télécharger le fichier
Origin : Files produced by the author(s)