Stomwater depollution by coagulation-floculation : trace elements speciation, influence of complexant anions, and research on sludge fate by studying the model system "silica, phosphate and FeCl3"
Traitement des eaux pluviales par coagulation-floculation : speciation des éléments traces, influence des anions complexants, et recherche sur le devenir des boues à partir du système de silice-phosphate-FeCl[indice]3
Non disponible - Not available
Les objectifs de la thèse sont d'optimiser le traitement de coagulation-floculation des eaux pluviales et d'identifier les principales phases porteuses des éléments traces dans les boues du traitement. L'identification des phases porteuses et la quantification de leur abondance ont été réalisées en utilisant la microscopie électronique à balayage et à transmission couplées à la spectroscopie d'énergie dispersive des rayons X. L'extraction parallèle des métaux lourds par ajout des réactifs appropriés a été utilisée pour une quantification de ceux-ci au sein de chaque fraction physico-chimique. On montre que les métaux lourds s'accumulent principalement au sein de phases sulfures dans les dépôts des réseaux unitaires et que celles-ci sont remise en suspension en temps pluvieux. Des signatures du lessivage des sols, des surfaces urbaines, et des dépôts des réseaux unitaires ont été mises en évidence. L'optimisation du traitement de coagulation-floculation des eaux pluviales a été abordée en reliant la concentration optimale en coagulant aux paramètres physicochimiques de l'effluent, tout en s'assurant de l'adéquation d'un tel traitement pour l'élimination des métaux lourds. La concentration optimale en coagulant peut être ajustée rapidement en fonction de la conductivité des effluents, celle-ci étant corrélée linéairement avec la concentration optimale. On montre également que la nature des espèces coagulantes est fortement influencée par les réactions entre les espèces hydrolysées du fer et les anions complexants dans les suspensions.
Fichier principal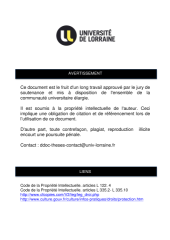 INPL_T_2003_ELSAMRANI_A.pdf (13.24 Mo)
Télécharger le fichier
Origin : Files produced by the author(s)