Plasticité phénotypique et compétitivité chez les hydrophytes : étude expérimentale et de modélisation de Ranunculus peltatus Schrank
Phenotypic plasticity is an important aspect of how plants develop, function and evolve in their environments. This thesis aimed at investigating the ecological significance of plasticity in hydrophytes and analysing its influence on plant competitiveness. We selected, as a study model, Ranunculus peltatus Schrank, well-known for its high plasticity. Its adaptations to nutrient or light stress and to disturbances were analysed through in situ, laboratory and semi-controlled experiments and a modelling approach. The following results were highlighted: R. peltatus adapted its biological traits according to stress and disturbance via different resource allocation patterns. R. peltatus rapidly adjusted its morphology in response to variations in shade and water depth following classical adaptive patterns. Adaptations developed in response to nutrient stress were essentially physiological and consisted mainly in the increase of nutrient uptake and nutrient-use efficiency in stressful conditions. With respect to disturbance, R. peltatus regeneration types were plastic. Mechanistic modelisation was used to simulate and improve the understanding of adaptative patterns highlighted experimentally. This approach constituted a first step in the evaluation of costs and benefits of a physiological adaptation in response to environmental stress. Hence, adaptive plasticity favours R. peltatus competitiveness and its ability to colonise and adapt to new sites. A large number of hydrophytes possesses this capacity. Its competitive interests is therefore essentially dependent on the plant combination of traits and on the amplitude and dynamic of their plastic adjustments.
La phénoplasticité est un élément important du métabolisme, du développement et de l'évolution des plantes au sein de leur environnement. L'objectif de cette thèse a consisté à mieux comprendre sa signification écologique et son rôle dans la compétitivité des hydrophytes et en particulier de Ranunculus peltatus, espèce localement proliférante. Ses adaptations ont été étudiées en fonction de stress en nutriments, en lumière et de perturbations par des études in situ, en laboratoire et d'une approche de modélisation. R. peltatus adapte ses traits biologiques selon des gradients de stress et de perturbation selon différents patrons d'allocations de ressources. Une étude plus précise des facteurs environnementaux influant cette plasticité a montré que R. peltatus s'adapte rapidement à des variations d'ombrage et de profondeur d'eau par des modifications morphologiques classiques. Des adaptations essentiellement physiologiques sont mises en place face à la réduction de la quantité de nutriments. Vis-à-vis d'une perturbation (coupe), des ajustements plastiques s'observent au niveau des types de régénération. L'approche de modélisation a permis d'expliquer de manière mécanistique certains schémas adaptatifs écophysiologiques observés expérimentalement. Elle constitue également une première étape dans l'évaluation des coûts et bénéfices de chaque adaptation physiologique. La plasticité adaptative accroît ainsi la compétitivité de R. peltatus et sa capacité à coloniser et à s'adapter à de nouveaux sites. L'intérêt compétitif de la plasticité est d'autant plus important qu'elle est liée à une combinaison de traits adaptée et que son amplitude et son dynamisme sont élevés.
Fichier principal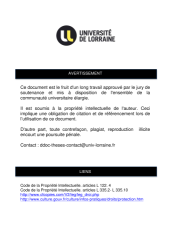 Garbey.Cendrine.SMZ0330.pdf (12.14 Mo)
Télécharger le fichier
Origin : Files produced by the author(s)