Acculturation scripturale au primaire
This research should be considered as a way to objectivate the process of child's scriptural acculturation. History and anthropology make depict writing as a matrix of social, cognitive and identitary order. This theoretical reference background provides criteria for the observation of school writing situations in primary school. The analysis of these situations shows that the first writing learning implies and generates cultural behaviours wich are in opposition with writing acquisition. An in-depth analysis of Department of Education's Official Texts shows that this observations are to be connected with the lack of official meaning about daily practice of writing. The analysis of discussions between teachers brings teacher's writing representations to light and a strong school tradition attached to writing learning which hinder the objectivation of school writing practices. The work opens research directions for didactic of writing.
Cette recherche est à lire comme un essai d'objectivation du processus d'acculturation scripturale de l'enfant. L'histoire et l'anthropologie font envisager l'écriture comme "matrice d'ordre" social, cognitif et identitaire. Ce cadre théorique de référence fournit des critères d'observation des situations scolaires d'écriture au primaire. Les analyses de ces situations montrent que les premiers apprentissages de l'écriture impliquent et générent des comportements culturels qui font obstacle à l'acquisition du savoir écrire. Une analyse approfondie des instructions officielles de l'Education Nationale fait apparaître que ce constat est à mettre en relation avec une négligence de la pensée officielle vis-à-vis des pratiques scolaires quotidiennes de l'écriture. Des discussions entre enseignants sur l'écriture en classe font apparaître des représentations de l'écriture chez les maîtres et une forte tradition scolaire attachée à l'apprentissage de l'écrit qui font obstacle à l'objectivation des pratiques d'écriture en classe. Ce travail ouvre des pistes de recherche pour la didactique de l'écrit.
Fichier principal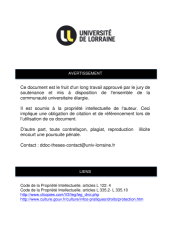 Peiffert_Sebillotte.Elisabeth.LMZ0315_1.pdf (16.21 Mo)
Télécharger le fichier
Origin : Files produced by the author(s)