Rôle de la salinité dans la dynamique et la régulation de la biodiversité des communautés de macroinvertébrés dulçaquicoles
One of the consequences of the climat changes and rising temperatures on continental aquatic environments will be an increase their salinity levels. This salinization process is due to multiple factors such as an increase of evaporation, a rise of the sea level and the subterranean aquifers or a change of land use and erosonial process of drainage basins. In spite of its importance, the role of the salinity in freshwater ecosystems is poorly known, in particular in temperate ecosystems. The main objective of this sudy is to improve our knowledge of the role and consequences of a rising salinity on the freshwater biota. A particular section of the Meurthe River allowed us to study on the field the role played by the salinity in the regulation of biodiversity of the macroinvertebrate community. This section of 19 Km presents a salinity gradient ranging from 0.21 to 2.60 g.L-1. The first part of this study document our knowledge on the change of macroinvertebrate communities along a salinity gradient in term of biodiversity and structure but also in terms of bio/ecological characteristics of macroinvertebrate assemblages. In the second part, the study is focused on the populationnal and individual scales to explain the observed changes in community scale, especially by using some laboratory tests of the salinity tolerance of 60 taxa belonging to all faunistic groups. From a practical point of view, we explored several bioassessment tools adapted to the study of salinization process such as the bused of sentinel substrate and artificial substrates. Some inovative investigations have also been realized on the use of fluctuating asymmetry to highlight developmental instabilities in natural population submitted to a salinity stress.
Un intérêt croissant est porté aux conséquences des modifications du climat et de la température sur les milieux aquatiques continentaux. Une augmentation de la salinité des eaux est envisagée dans un contexte de changements globaux, due en particulier à l'augmentation de l'évaporation, la remonté du niveau marin et des aquifères souterraines, les changements d'occupation des sols et les processus d'érosion des bassins versants. Malgré cette perspective, le rôle de la salinité dans les écosystèmes d'eaux douces est mal connu, en particulier au niveau d'écosystèmes situés en climat tempéré. L'objectif principal de ce travail doctoral est de contribuer à une meilleure connaissance du rôle et des conséquences de l'augmentation de la salinité sur la faune des eaux. Des spécificités régionales ont permis d'étudier in situ, le rôle de la salinité dans la régulation de la biodiversité des communautés de macroinvertébrés d'une rivière, la Meurthe, présentant sur une faible distance géographique (environ 19 Km) un important gradient de salinité (0,2 à 2,6 g.L-1). La première partie de ce travail documente nos connaissances sur l'évolution des communautés de macroinvertébrés le long du gradient de salinité en terme de biodiversité et de structure mais aussi en termes de caractéristiques bio/écologiques des peuplements macrobenthiques. L'impact de la salinité a été mis en évidence à partir d'une concentration en sels supérieure à 1,4 g.L-1 avec, notamment, l'installation d'espèces exotiques. Dans une seconde partie, des études aux niveaux populationnel et individuel ont permis d'expliquer les changements observés à l'échelle communautaire, notamment par l'intermédiaire de tests de tolérance à la salinité réalisés en conditions contrôlées sur 60 taxons appartenant à l'ensemble des groupes faunistiques. Plusieurs outils diagnostiques tels que l'utilisation d'habitats sentinelles et de substrats artificiels adaptés à l'étude de la salinisation ont été développés au cours de ce travail. Des investigations originales ont également été réalisées sur la possibilité d'utiliser des mesures d'asymétrie fluctuante en tant qu'indicateur d'instabilité de développement des populations naturelles soumises à un stress salin.
Fichier principal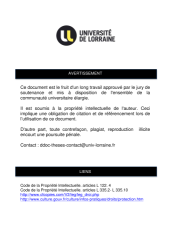 Piscart.Christophe.SMZ0427.pdf (16.28 Mo)
Télécharger le fichier
Origin : Files produced by the author(s)