Caractérisation expérimentale et modélisation du comportement plastique d'aciers à transformation martensitique : applications à la mise en forme
The industrialists of the sector of the stamping of sheets seek materials increasingly more powerful, presenting a good compromise between the aptitude and the mechanical resistance of sheet formatted. Steels for purpose TRlP (TRansformation lnduced Plasticity) answer these requirements well. Two modelings phenomenologic and semi-physics of these steels are proposed and implemented in the code of finite elements Abaqus through various models of work hardening and martensitic kinetics of transformation. An experimental characterization is also carried out on the austenitic steels stainless of type 304 and multiphase TRIP800, in particular for monotonous ways of loading at various temperatures like in stamping of the Marciniqk type. A numerical study of the formability of sheets of these unstable steels is then presented for the'two models describing the various contributions of the martensitic transformation. These contributions are analyzed in order to evaluate their influence on stamping. A confrontation between the experimental and numerical results indicates a good correlation. A better capacity of prediction is then obtained for the more physical model taking account of the micromechanical phenomena.
Les industriels du secteur de l'emboutissage des tôles recherchent des matériaux toujours plus performants, présentant un bon compromis entre l'aptitude et la résistance mécanique de la tôle mise en forme. Les aciers à effet TRlP (TRansformation lnduced Plasticity) répondent bien à ces exigences. Deux modélisations phénoménologique et semi-physique de ces aciers sont proposées et implémentées dans le code d'éléments finis Abaqus à travers différents modèles d'écrouissage et de cinétique de transformation martensitique. Une caractérisation expérimentale est également effectuée sur les aciers austénitique inoxydable de type 304 et multiphasé TRIP800, en particulier pour des trajets de chargement monotones à différentes températures ainsi qu'en emboutissage de type Marciniak. Une étude numérique de la formabilité des tôles de ces aciers instables est alors présentée pour les deux modèles décrivant les différentes contributions de la transformation martensitique. Ces contributions sont analysées afin d'évaluer leur influence sur l'emboutissage. Une confrontation entre les résultats expérimentaux et numériques indique une bonne corrélation. Une meilleure capacité de prédiction est alors obtenue pour le modèle plus physique tenant compte des phénomènes micromécaniques.
Fichier principal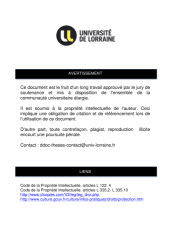 Serri.Jerome.SMZ0625.pdf (7.24 Mo)
Télécharger le fichier
Origin : Files produced by the author(s)