Assistance à la conception coopérative fondée sur la sémantique des ouvrages : application au domaine du bois
The use of systems adapted to the cooperative design assistance for the building domain is very complex. This results from the complexity of the cooperative work (difficulties in tracking actor's work, lack of the whole required information to realize tasks in every document, coordination problems, discontinuity of data, etc.) According to this aspect, we propose a study of group activities in building design project and specifically in wooden domain whère deseigners cooperat a lot. Following this, our research presents the concept of the digital project deduced from the analysis of the IFC model (Industry Foundation Classes) and the cooperation approach based on use of the digital mock-up in automobile and aeronautic sectors. Indeed, the data exchange based on use of interopable objects constitute a new approach to follow in building domain. Thus, to design a virtual cooperative environnement using these notions, we expose a model tanking in to account the semantic meaning of the building works exchanged by actors. This modelisation al-lows us to create a computer tool adapted to the aid of cooperative design by representing the cooperative contexte of the project and the management of building data.
La complexité de l'utilisation des systèmes d'aide à la conception coopérative dans le domaine du bâtiment résulte de la complexité même du travail coopératif (difficultés de traçabilité des actions, non-disposition sur chaque document de l'ensemble des informations requises pour accomplir une tâche donnée, problèmes de coordination, discontinuité' des données, etc.). En considérant cet état de fait, nous proposons une étude des activités liées au travail de groupe dans le cadre de projets de conception de bâtiments, et plus spécifiquement dans le domaine du bois qui nécessite une importante coopération entre les concepteurs. Cette étude présente ensuite le concept de projet numérique déduit de l'analyse du modèle des IFC Industry Foundation Classes' et de l'approche de coopération basée sur l'utilisation de la maquette numérique dans les secteurs de l'industrie automobile et aéronautique. En effet, l'échange des données basé sur l'utilisation des objets interopérables constitue une approche nouvelle à approfondir dans le domaine du bâtiment. Ainsi, afin de concevoir un environnement virtuel coopératif regroupant ces notions étudiées, nous proposons un modèle tenant compte des informations sémantiques relatives aux ouvrages échangés par les acteurs. Nous avons mis en oeuvre celui-ci dans une interface d'un système coopératif. Cet outil prototype offre une représentation graphique d'un contexte coopératif de projet favorisant l'organisation et le regroupement des informations nécessaires à la conception de bâtiments.
Fichier principal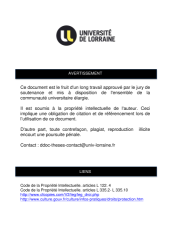 2005_BOUATTOUR_M_1.pdf (5.66 Mo)
Télécharger le fichier
2005_BOUATTOUR_M_2.pdf (4.55 Mo)
Télécharger le fichier
Origin : Files produced by the author(s)