Etude de la diversité génétique et fonctionnelle de champignons du sol présentant une activité laccasique : mise au point d'outils moléculaires et application à l'étude comparative de sols agricoles et forestiers
Soil microorganisms are involved in biogeochemical cycles. Fungal laccases, exoenzymes lacking substrate specificity, promote the degradation and the condensation of a wide diversity of organic components. They likely play a central role in the formation, stabilization, degradation and then in the cycling of soil organic matter (SOM). To investigate the role of these enzymes, we have developed molecular methods based on PCR allowing the in situ monitoring of the distribution and expression profiles of basidiomycetes laccase genes in soils. For all analyzed soils, we showed a positive correlation between quantity of SOM and the observed fungal species diversity. Temperate forest soils are characterized by a wide diversity of fungal species and an important spatial heterogeneity of the fungal communities. The laccase-gene expression analysis underlines that only a fraction of the total genetic potential was expressed and that several differences exist between rhizosphere and bulk soil.
Les microorganismes du sol participent au bon fonctionnement des cycles biogéochimiques. Les laccases fongiques, favorisant la décomposition et la condensation de nombreux composés organiques, participent de façon majeure à la formation, la stabilisation et à la décomposition de la matière organique des sols (MOS). Nous avons donc développé des méthodes moléculaires, reposant sur la PCR, permettant d'étudier in situ les profils de distribution et d'expression des gènes laccasiques de Basidiomycètes dans les sols. Pour tous les sols analysés, nous avons mis en évidence un rapport positif entre quantité de MOS et diversité en espèces présentes. Les sols forestiers tempérés se caractérisent par une grande diversité en espèces fongiques et par une hétérogénéité spatiale de leurs communautés fongiques. L'étude de l'expression des gènes laccasiques souligne qu'une faible partie du potentiel génétique est exprimée et qu'il existe des différences entre sol rhizosphérique et non rhizosphérique.
Fichier principal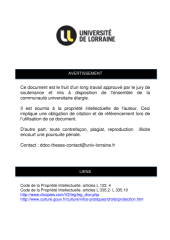 SCD_T_2004_0030_LUIS.pdf (31.07 Mo)
Télécharger le fichier
Origin : Files produced by the author(s)