Adaptation des applications distribuées à la Qualité de Service fournie par le réseau de communication
Various new networking applications have appeared in the past ten years. Packet switched networks initially designed for the transfer of text data are used nowadays by more complex traffics with strong constraints in terms of Quality of Service (QoS). Our approach considers that no strict guarantee can be obtained from communication system. In this context, we propose a new QoS Architecture called "QdS-Adapt". It offers a general framework that permits applications to adapt dynamically their execution to resources fluctuations. The architecture includes a network metrology service. It has been designed to allow the implementation of various measurement techniques. The feasibility of the architecture has been verified on two tele-operation applications of a mobile robot. Experimentations show that the architecture allows on-line adaptation strategies to be implemented and that the impact of QoS degradations on the application functioning can be limited.
Aujourd'hui, les échanges d'information prennent des dimensions géographiques plus importantes. Les réseaux utilisés sont donc le plus souvent hétérogènes et non déterministes. Parallèlement, les informations transférées sont de plus en plus contraintes en Qualité de Service (QdS). Ainsi, les réseaux de communication conçus pour acheminer des trafics non contraints doivent à présent satisfaire les besoins d'applications critiques. Cette thèse vise à permettre aux applications distribuées de pallier l'insuffisance du système de communication en adaptant leur exécution en ligne. Nos contributions sont les suivantes: une architecture de QdS et un service de métrologie de la QdS. L'architecture fournit un cadre générique pour l'adaptation et intègre le service de métrologie. Ce dernier est conçu pour accueillir des opérateurs de mesure de toutes sortes de paramètres. La faisabilité de l'architecture a été vérifiée au travers des deux applications de téléopération. Les expérimentations montrent que l'architecture rend possible l'adaptation à la QdS du réseau et qu'il est possible de limiter l'impact des dégradations introduites par le réseau.
Fichier principal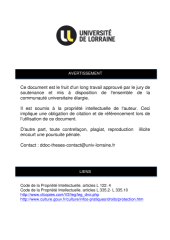 SCD_T_2003_0159_MICHAUT.pdf (4.9 Mo)
Télécharger le fichier
Origin : Files produced by the author(s)