Children and the notion of time? : many issues at stake
L'enfant et le temps, au carrefour d'enjeux multiples :
In this Master's thesis, the author has considered the different relations children will have to experience with the notion of time, told how children can built a personal link to it, explained what specific tools already are, or might become aviable to them in that purpose. The author has organised his work looking at three different main directions : - a documentary inquiry in philosophy, sociology and history, has made it possible to consider the social approaches to time, - a survey of different pieces or research, of testimonies and of regulations writings has made clear the characteristics of the problems raised by the devices set up to improve the rhythm of the children's daylife, - the use of documents illustrating teaching skills, and of interviews of children, has made it possible to identify processes in the understanding and the appropriation of the idea of time by the children themselves. These supplementary procedures have led to the identification of issues linked to time, and to the production of a paradigm of the relation linking children to time, suggesting as a tool for survey, action and training as well.
Dans ce travail de thèse, l'auteur a envisagé les différents rapports que l'enfant est amené à tisser avec le temps, distingué de quelle manière il peut construire un rapport personnel au temps, précisé de quels outils il dispose, ou desquels il peut se saisir dans ce but. L'auteur a mené son travail dans trois directions principales : - Une investigation documentaire en philosophie, sociologie et histoire a permis de rappeler les approches sociales du temps. - La prise en compte de travaux de recherche, de témoignages et de textes réglementaires a permis de préciser les caractéristiques du temps de l'enseignement, et de distinguer les enjeux des dispositifs d'aménagement des rythmes de vie de l'enfant. - La saisie de documents issus de la pratique de classe, et d'interviews réalisées auprès d'enfants a permis de révéler des processus de compréhension et de représentation du temps élaborés par l'enfant lui-même. Ces démarches complémentaires ont abouti à l'identification d'enjeux s'attachant au rapport au temps et à la production d'un paradigme du rapport de l'enfant au temps, proposé comme outil d'observation, d'action et de formation.
Fichier principal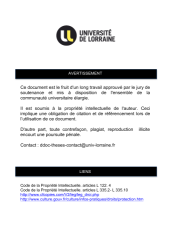 2005NAN21021_1.pdf (14.67 Mo)
Télécharger le fichier
Origin : Files produced by the author(s)