Etude de l'expression des cytochromes P 450 aromatases comme marqueurs biologiques d'une perturbation endocrinienne chez le poisson
The objective of this work was to study the effects of endocrine disrupting chernicals (EDCs) on brain and gonadal P45Oaromatase in fish in order to determine to which extent these genes or their products could be used as biomarkers of endocrine disruption in fish. We first developed methods to measure cypl9a and cypl9b mRNA and protein levels, as well as activity of brain and gonadal aromatase in zebrafish (Danio rerio). These methods allowed us to obtain relevant and original data on the expression of aromatases in this species. Next, we assessed the effects of several environmental pollutants and characterized the inhibitory potency of several pesticides using an in vitro assay based on brain and gonadal microsomal aromatase fiom rainbow trout (Oncorhynchus mykiss). Clotrimazole, an imidazole fùngicide used as a pharmaceutical, was found to be the most active substance among the tested pesticides. In vivo, we observed that various substances can perturb brain and gonadal aromatase and elicit tissue-specific responses. While androstadrienedione (a steroidal inhibitor of aromatase) inhibited aromatase activity in both brain and gonads without affecting cypl9 expression, the in vivo action of clotrimazole (characterized as an aromatase inhibitor in vitro) was more complex. The effects of this molecule differed depending on the target tissue and the concentration used for exposure. Moreover, the effects observed on the mRNA levels did not allow to predict the effects on the aromatase activity. Finally, we showed that some xenoestrogens are able to inhibit ovarian aromatase gene expression and at the same time to induce brain aromatase at the gene and protein level through an estrogen receptor (ER)-dependent mechanism. This demonstrates that measurement of cypl9b induction is a relevant biomarker of exposure to estrogenic compounds. Taken together, Our work provides new and relevant data concerning the effects and mechanisms of action of EDCs in fish, especially in female individuals. However, to determine the physiological and reproductive consequences of aromatase perturbation, M e r research is needed. Such knowledge is critical for establishing the use of these biomarkers in risk assessrnent of EDCs.
L'objectif de cette thèse est d'étudier les effets des perturbateurs endocriniens (PE) sur les enzymes à cytochrome P450 aromatases cérébrales et gonadiques chez le poisson afin de déterminer si les expressions des aromatases peuvent constituer des marqueurs biologiques potentiels d'une perturbation endocrinienne. Dans ce but, des méthodes de mesure permettant d'étudier les aromatases à différents niveaux d'expression (gène, protéine et activité enzymatique) ont été développées et ont permis d'acquérir des informations originales sur la caractérisation des expressions des aromatases dans le cerveau et les gonades chez le poisson zèbre (Danio rerio). In vitro à l'aide d'un test sur microsomes de cerveaux et d'ovaires de truite (Oncorhynchus mykiss) qui a été développé dans ce travail, les effets de polluants environnementaux sur les activités d'aromatisation ont été recherchés et ont permis de caractériser le potentiel inhibiteur de plusieurs pesticides parmi lesquels le clotrimazole, un fongicide de la famille des imidazoles, s'est avéré le plus actif. In vivo, nous montrons que diverses substances chimiques affectent les P450 aromatases cérébrales et gonadiques par des mécanismes d'action tissuspécifiques. Alors que l'androstatriènedione (un inhibiteur stéro?idien des P450 aromatases), inhibe les activités d'aromatisation dans le cerveau et les ovaires, le clotrirnazole dont nous avons montré les capacités d'inhibitions in vitro, provoque chez les femelles des effets beaucoup plus complexes qui sont dépendants du tissu cible étudié ainsi que de la concentration d'exposition, les effets au niveau des gènes ne reflétant pas nécessairement les effets observés aux niveaux enzymatiques. Enfin, nous montrons que les xéno-oestrogènes inhibent l'expression de l'aromatase ovarienne mais induisent l'expression de l'aromatase cérébrale par un mécanisme ER-dépendant démontrant ainsi que la mesure de l'induction de l'aromatase dans le cerveau constitue chez le poisson un marqueur biologique d'exposition à des composés oestrogéniques. Si nos travaux permettent de mieux appréhender les mécanismes d'actions et les effets des PE chez le poisson, notamment chez les femelles, il n'en reste pas moins que la question des effets des perturbations de l'expression des aromatases sur la reproduction des poissons n'a pas été abordée. Ce point est pourtant essentiel si l'on souhaite utiliser efficacement ces variables pour évaluer le risque des substances chimiques.
Fichier principal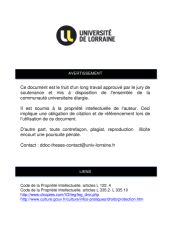 Hinfray.Nathalie.SMZ0621.pdf (34.49 Mo)
Télécharger le fichier
Origin : Files produced by the author(s)