Le vocabulaire politique des learders nationalistes congolais : de P. E. Lumumba à L. D. Kabila
he use of same words in the nationalists leaders discourses ( 1958 2000) reflect different values though the veritable value hasn t impact on the society. The Z and Khi-2 test s specifies the veritable discourse acts. The research precises the use of the words democracy, enemy, independent, liberation, liberty, fight, people, population, power, reconciliation, revolution, reconstruction, andet unity in political discourse of nationalists leaders of Congos leaders, from 1958 to 2000. The political leaders P.E.Lumumba, C.Gbenye, G.Soumialot, Mobutu Sese Seko, Tshisekedi and L.D.Kabila are the principal subject of this research. This research contributes to political ideas story of Congo and presents country linguistics uses.
Cette recherche tend à déterminer, au travers de l étude des contextes et des occurrences, la valeur d emploi des mots démocratie, ennemi, indépendance, libération, liberté, lutte, peuple, population, pouvoir, réconciliation, reconstruction, révolution et unité, dans les discours politiques des leaders nationalistes congolais, de 1958 à 2000. P.E. Lumumba a marqué depuis 1958 la politique du Congo: C. Gbenye (1964), G. Soumialot (1964) et L.D.Kabila (1997) ont emprunté théoriquement ses principes idéologiques; Mobutu Sese Seko (1965) a privilégié l autocratie aux valeurs démocratiques de Lumumba: Tshisekedi (1982) s est résolument opposé à Mobutu... Des éléments lexicaux (linguistiques et métalinguistiques) construisent chez ces dirigeants des discours et des stratégies discursives dont les propriétés sont diverses ou divergentes; ces discours peuvent (être): - motivants chez Lumumba et chez Tshisekedi, qui cherchent à légitimer leurs opinions et à les identifier à celles du peuple congolais; - directifs chez Lumumba, Gbenye, Soumialot et Mobutu, qui cherchent à gagner l estime et la confiance; - recourir à des formes d intimation chez Tshisekedi, Kabila, vu le caractère injonctif de leurs messages. La praxématique, les théories de l énonciation et de la pragmatique, ainsi que les techniques harrisiennes d analyse du discours ont contribué à la découverte du sens des mots des discours politiques. Les tests Z et Khicarré ont facilité la comparaison des lexèmes pour la détermination de l existence ou non d une liaison entre les valeurs d emploi des mots.
Fichier principal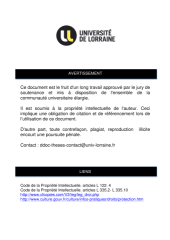 Musuasua_Musuasua.Antoine.LMZ0613_1.pdf (1.42 Mo)
Télécharger le fichier
Origin : Files produced by the author(s)