Vers une évolution du rapport au travail et au chômage ? Points de vue de demandeurs d'emploi et discours de salariés
Professional career paths are nowadays marked by multiple transitions. Job loss is one of the most frequent causes of professional transitions. Given this emphasis, recent studies questioned a possible evolution of the "work" norm, the emergence of an "unemployment norm" and its effects on job seekers. This paper proposes to contribute to the discussion on the current evolution of the relation to work and unemployment. At first, the results of a study with 500 unemployed people, who completed a questionnaire on work centrality and on the perception of work, will be presented. Then, a discourse analysis on the meaning and meaningfulness of work of 15 working people will be discussed. The results show the central function of work and the relative normalization of unemployment.
Les parcours professionnels sont aujourd'hui marqués par de multiples transitions, de natures diverses. Le chômage est l'une des fréquentes causes de transition contrainte de carrière. Face à ce constat, de récentes études ont soulevé un questionnement sur la possible évolution de la norme « travail » perçue, l'émergence d'une norme « chômage » et ses effets sur les personnes en recherche d'emploi. Le présent papier propose de contribuer à la réflexion sur l'actuelle évolution du rapport au travail et au chômage. Les résultats d'une première étude menée auprès de 500 demandeurs d'emploi questionnés à l'aide d'une échelle de centralité du travail et de perception du chômage seront d'abord présentés. Une analyse du discours de 15 salariés amenés à s'exprimer sur le sens et la place du travail dans leur trajectoire de vie sera ensuite détaillée. Les résultats de ces deux études seront enfin discutés et confrontés, mettant en évidence le rôle central que tient encore aujourd'hui le travail, et la normalisation toute relative de la situation de chômage.
Fichier principal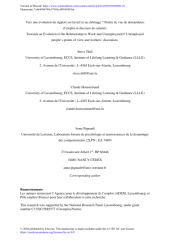 S142025302030011X.pdf (727.28 Ko)
Télécharger le fichier
Origin : Files produced by the author(s)