L'acrylamide, contaminant alimentaire cancérogène méconnu ?
The recent discovery of acrylamide in 2002, probably carcinogenic to humans, in a variety of fried and starch based food products has raised concern worldwide. Acrylamide is clearly carcinogenic ins studies in animals, in which it causes increased tumour incidence at a variety of sites. At this time, there is no information to indicate any significant difference between rodents and humans in sensitivity to cancer formation from acrylamide. Neurotoxicity appears to be the only documented effect or acrylamide in human epidemiological studies, reproductive toxicity, genotoxicity and carcinogenicity are potential human health risks on the basis of only animal studies. More data on cancer epidemiology in populations of known high exposure are required. It is recommended to make efforts to decrease the acrylamide content of the diet. More guidance on this by national and international authorities is warranted.
La découverte récente en 2002 de la présence d'acrylamide, un cancérogène probable pour l'homme, dans les aliments à base de pommes de terre a alerté la communauté internationale. Ce composé induit des cancers dans de nombreux sites chez les rongeurs. Aujourd'hui, aucun élément n'a pu indiquer une différence de sensibilité au cancer entre les animaux de laboratoire et l'homme. Les études épidémiologiques disponibles ont mis seulement en évidence une neurotoxicité de ce composé sur l'homme, mais l'étude de la toxicité sur la reproduction et le développement, de la génotoxicité et de la cancerogénicité chez les animaux montre qu'il existe un risque pour la santé humaine dû à l'acrylamide. Les études disponibles sur la cancérogénicité de l'acrylamide notamment sont encore trop peu nombreuses et nécessitent d'être poursuivies.En l'absence de réelles certitudes, les efforts pour réduire les quantités d'acrylamide dans les aliments par les industriels ou les particuliers doivent se poursuivre. Les autorités nationales et internationales doivent émettre des recommandations dans ce but.
Fichier principal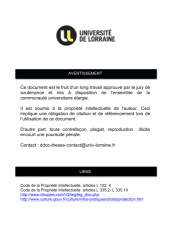 SCDPHA_T_2007_KLEIN_CELINE.pdf (4.81 Mo)
Télécharger le fichier
Origin : Files produced by the author(s)