Diagnosis and assessment of neuropathic pain in general practice : survey by ten doctors before and after a training course
Diagnostic et Evaluation des Douleurs Neuropathiques en Médecine Générale. Enquête auprès de dix médecins avant et après une formation.
Les douleurs neuropathiques, initiées ou causées par une lésion primitive ou undysfonctionnement du système nerveux, concernent 7 à 8% de la population générale et 25% des personnes souffrant de douleurs chroniques d'intensité modérée à sévère. Leur retentissement est majeur, tant sur le plan fonctionnel (activités de la vie quotidienne, sommeil, humeur, relations psychosociales) que sur le plan socio-économique (consommation de soins, conséquences professionnelles). Or ces douleurs restent sousdiagnostiquées et sous-traitées. Ce travail est une étude pilote menée autour d'une séance d'enseignement postuniversitaire portant sur le diagnostic et l'évaluation des douleurs àcomposante neuropathique dominante à destination de généralistes, parmi lesquels dix médecins des groupes de Toul (54), Commercy et Bar-le-Duc (55) ont participé à un miniaudit en deux tours, permettant un recueil de données pour 97 patients. Les étiologies citées étaient peu variées et correspondaient aux causes les plus fréquentes d'après la Société Française d'Étude et de Traitement de la Douleur. La séance de formation a permis d'étayer et de préciser les critères diagnostiques mentionnés sur les questionnaires, avec un accent mis sur l'examen clinique et la topographie des symptômes. Selon les résultats, le diagnostic était plus facile à établir après la formation et les participants portaient plus d'attention au retentissement biopsychosocial de la douleur. Cette étude pilote invite donc au développement d'actions pédagogiques axées sur les étiologies, les caractéristiquessémiologiques et l'évaluation du retentissement pour une meilleure prise en charge des douleurs neuropathiques en médecine générale.
Fichier principal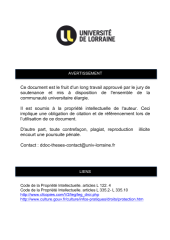 SCDMED_T_2011_MILLET_MALINGREY_LAURENE.pdf (1.27 Mo)
Télécharger le fichier
Origin : Files produced by the author(s)