Experience of parents when receiving the diagnosis of phenylketonuria in their children: 39 parents from Nancy remember
Véçu parental de l'annonce du diagnostic de phénylcétonurie : 39 parents "nancéiens" se souviennent...
L'annonce du diagnostic est un moment crucial et émotionnellement intense de la prise en charge de tout patient en médecine. En pédiatrie, le médecin s'adresse à son jeune patient mais aussi aux parents de ce dernier. De cette première rencontre aux prémices de l'alliance thérapeutique entre les soignants, l'enfant et ses parents, va dépendre le déroulement de la prise en charge ultérieure.La phénylcétonurie est une maladie rare diagnostiquée dans les premiers jours de vie grâce au dépistage néonatal systématique en France. Ce dépistage précoce permet de prévenir des séquelles neurologiques graves et irréversibles au prix d'un régime alimentaire strict de la naissance à l'adolescence.Après une brève présentation des principales caractéristiques de cette maladie ainsi que des modalités d'annonce employées au Centre de Référence des Maladies Héréditaires du Métabolisme de Nancy, l'auteur présente dans une deuxième partie une étude menée dans ce service en 2011 auprès de 39 parents auxquels a été annoncé le diagnostic de phénylcétonurie ou d'hyperphénylalaninémie persistante bénigne chez leur enfant. Ce travail s'organisant autour d'un auto-questionnaire parental individuel vise à explorer rétrospectivement émotions, informations retenues, perceptions des modalités d'annonce et répercussions sur l'entourage. L'étude retrouve l'existence d'un souvenir parental précis des items explorés.Dans une troisième partie, la discussion des résultats met en évidence l'importance de la qualité du lien crée avec le médecin spécialiste à ce moment de la prise en charge ainsi que des moyens proposés aux parents visant à favoriser l'intégration des informations reçues.
Fichier principal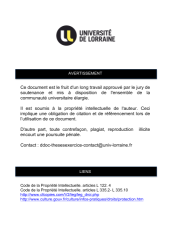 BUMED_T_2012_RICHAUD_SALEH_VIRGINIE.pdf (3.75 Mo)
Télécharger le fichier
Origin : Files produced by the author(s)