Evaluation of non-operative treatment guided by isokinetic dynamometry , in chronic shoulder instability.
Evaluation du traitement conservateur guidé par isocinétisme dans l'instabilité chronique de l'épaule
Introduction: If the dismemberment of chronic shoulder instability is still a topical issue, initial surgical or conservative treatment is all the more. Hypothesis: An initial isokinetic assessment of shoulder rotator muscles allowing targeted therapy, could give amediumtermsatisfactoryfunctionalresults, thus avoiding an invasive surgical procedure in chronically unstable shoulders so-called "atraumatic."Materials and methods: This series of 41 patients treated between 2000 and 2007 for shoulder pain and instability. The average age is 23.3 years [15-38] of 29.5 with a mean of 74.8 months [41-126], 23 men, 18 women, 38 constitutional hyperlaxity, 5 microtraumatic hyperlaxity, 5 with an Voluntary subluxation history, 41% of high-risk sports. The instability was anterior in 51%, posterior in 29% and 22% multidirectional. The isokinetic dynamometer assessment gives: peak torque, external / internal rotator ratio and general appearance of the curve. The rehabilitation protocol includes: targeted and overall muscle strengthening and proprioceptive work. The initial functional assessment is carried out by a score of Rowe and Walch-Duplay, and the final evaluation by the Rowe score, Walch-Duplay, quick-dash and an overall satisfaction questionnaire.Results: In hindsight, Rowe scores increased from 45.7 to 75.3 on average (p <0.05), Walch increasing significantly from 35.5 to 78.2. The Quick-Dash is 11.4 or 86.4% of capacity and 85.4% are satisfied with their shoulder. The results of posterior subgroup was significantly higher, and the voluntary instability subgroup significantly lower.Discussion: A non-operative treatment guided by isokinetic evaluation gives goodresults in medium term. The indications, methods and results of surgery in this type of instability are still poorly defined, it should be proposed after a failure of a well done rehabilitation.
Introduction: Si le démembrement de l'instabilité chronique est encore uneproblématique d'actualité, son traitement chirurgical ou conservateur initial l'estd'autant plus.Hypothèse: Une évaluation isocinétique initiale des rotateurs de l'épaule permettant une rééducation ciblée, donnerait à moyen terme des résultats fonctionnels satisfaisants, évitant ainsi un geste chirurgical invasif dans les épaules instables chroniques dite "non traumatiques".Matériel et méthode: Cette série compte 41 patients traités entre 2000 et 2007pour épaule douloureuse et instable. L'âge moyen est de 23,3 ans [15-38] de 29,5au recul moyen de 74,8 mois [41-126], 23 hommes,18 femmes, 38 hyperlaxitéconstitutionnelle, 5 hyperlaxité microtraumatique, 5 avec antécédents desubluxations volontaires , 41% de sportif à risque . L"instabilité était antérieure dans51%, postérieure dans 29% et multidirectionelle dans 22% des cas. L'évaluationisocinétique sur dynamomètre évalue: moment de force maximal, ratio rotateurexterne/ rotateur interne et aspect général de la courbe. Le protocole de rééducation comprend: renforcement musculaire ciblé puis global avec travail proprioceptif. L'évaluation fonctionnelle initiale est réalisée par un score de Rowe et de Walch- Duplay , l'évaluation au recul par les score de Rowe , Walch-duplay, Quick-dash et un questionnaire de satisfaction globale.Résultats : Au recul, les scores de Rowe passe de 45,7 à 75,3 en moyenne(p<0,05), le Walch augmentant significativement de 35,5 à 78,2 . Le Quick-Dash est de 11,4 soit 86,4 % de capacité et 85,4% sont satisfaits de leur épaule. Les résultats du sous-groupe luxation postérieure est significativement plus élevé, celui des luxation volontaires significativement inférieur.Discussion: Le traitement rééducationnel guidé par isocinétisme donne de bonsrésultats à moyen terme. La chirurgie dont les indications, les modalités et lesrésultats dans ce type d'instabilité sont encore mal définis, ne devrait être proposéqu'après échec d'une rééducation bien menée
Fichier principal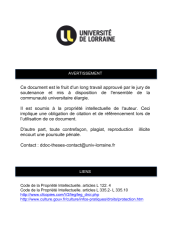 SCDMED_T_2010_BELLAN_DAMIEN.pdf (1.21 Mo)
Télécharger le fichier
Origin : Files produced by the author(s)