Management of malnutrition in the elderly at home : Social environmental factors related to the failure of the home food delivery service.
Prise en charge de la dénutrition de la personne âgée à domicile : Facteurs sociaux environnementaux associés à l'échelle dans le portage des repas à domicile - étude qualitative
Objectives : Identify the account associated with the failure of the refeeding home in individuals aged undernourished receiving delivery of meals at home.Methods : Qualitative study by interviews semi led conducted 20 people recruited from the patientele of four general practitioners and two gerontologists. These people were to be undernourished in the portage of the meal (>= 5% in 1 month weight loss) Results : Older respondents do not perceive the medical need to maintain in a state of stable health, they often associate the portage of the meals with other medical reasons. They regretted the "tray" presentation and the absence of choice, associated with an infringement of their cultural identity.The social and family of the elderly environment influence food intake, people who lost the most weight are often isolated, and a human presence at the meals improving the effectiveness of the portage of meals. Discussion - conclusion: The portage of the meals on wheels seems to reinforce the isolation of individuals. It should ideally be limited to a short period of time, one in which mobility is reduced. In extension of this period, the presence of a home help during the meals combined with the delivery of meals appears be a more satisfactory solution.It's to promote collective, individual actions or intergenerational to promote friendly meals where human presence is a priority, as the experiences already made in other countries.
Objectifs : Identifier les éléments socio-environnementaux associés à l'échec de la renutrition à domicile chez des personnes âgées dénutries bénéficiant de la livraison des repas à domicile. Méthodes : Étude qualitative par entretiens semi dirigés réalisés auprès de 20 personnes recrutées parmi la patientèle de quatre généralistes et deux gérontologues. Ces personnes devaient être dénutries lors de la mise en place du portage des repas (perte de poids >= 5% en 1 mois)Résultats : Les personnes âgées interrogées ne perçoivent pas la nécessité médicale de les maintenir dans un état de santé stable, elles associent souvent le portage des repas à d'autres raisons médicales. Elles regrettent la présentation « barquette » et l'absence de choix possible, associés à une atteinte à leur identité culturelle. L'environnement social et familial de la personne âgée influence la prise alimentaire, les personnes ayant perdu le plus de poids étant souvent isolées, et une présence humaine au moment du repas améliorant l'efficacité du portage de repas. Discussion- Conclusion : Le portage des repas à domicile semble renforcer l'isolement des personnes seules. Il devrait idéalement être limité à une courte période, celle durant laquelle la mobilité est réduite. En cas de prolongation de cette période, la présence d'une aide à domicile durant les repas combinée à la livraison des repas apparaît être une solution plus satisfaisante. Il s'agit de promouvoir des actions collectives, individuelles voire intergénérationnelles visant à favoriser des repas conviviaux où la présence humaine est prioritaire, à l'instar des expériences déjà réalisées dans d'autres pays.
Fichier principal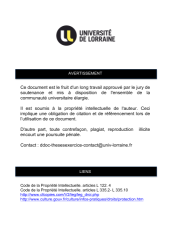 BUMED_T_2012_MONTEMONT_MAGALI.pdf (1.06 Mo)
Télécharger le fichier
Origin : Files produced by the author(s)