Aliskiren in current antihypertensive therapy : investigation with Lorraine's doctors and sufferers
Place de l'Aliskiren dans la thérapeutique antihypertensive actuelle : Enquête auprès de médecins et patients de la région Lorraine.
L'hypertension artérielle est une pathologie qui touche, selon l'enquête FLASHSréalisée en 2010, plus de 11 millions d'individus en France. Au cours de l'année 2009, l'assurance maladie a consacré un peu plus de 9% du budget « médicaments » uniquement pour les antihypertenseurs, soit environ 1,98 milliards d'euros. Cette même année, une nouvelle classe d'antihypertenseurs est apparue sur le marché : les inhibiteurs de la rénine. Un seul principe actif est pour le moment commercialisé : l'aliskiren. Dans la lignée des IEC et des ARA II, cette classe agit sur le système rénine-angiotensine en amont des deux classes citées précédemment. Dès lors, on peut se demander si cette troisième classe thérapeutique apporte un bénéficesupplémentaire par rapport aux autres.Ce travail propose d'une part un rappel sur le traitement de l'hypertension artérielleet une synthèse des travaux effectués sur l'aliskiren concernant son efficacité etsurtout concernant les résultats obtenus sur l'hypertension artérielle lorsqu'il estassocié à un IEC et/ou un ARA II. D'autre part, il propose un tour d'horizon sur sonutilisation pratique et ses modalités de prescription d'après les résultats d'uneenquête menée entre juillet et septembre 2012 auprès de médecins généralistes, de cardiologues et de patients de la région Lorraine. Celle-ci inclut les résultats de 34 médecins soit un échantillon de 677 patients ainsi que les résultats obtenus directement auprès de 40 patients interrogés dans 4 officines de la région.
Fichier principal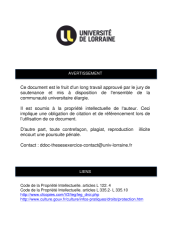 BUPHA_T_2013_THOUVENIN_ILAN.pdf (2.47 Mo)
Télécharger le fichier
Origin : Files produced by the author(s)