Awareness of tetanus immunization status by the patient and by his physician: prospective study on 172 cases collected during the 2010-2011 winter in emergency department of Lunéville hospital.
Evaluation de la connaissance du patient et de son médecin traitant vis-à-vis de son statut vaccinal antitétanique. Etude rétrospective sur 172 cas menée aux urgences du centre hospitalier de Lunéville durant l'hiver 2010-2011.
La prise en charge des plaies en urgence requiert systématiquement un questionnement quant à l'application de mesures d'immunoprophylaxie antitétanique. La connaissance du statut vaccinal du patient est primordiale dans de telles conditions. Certains facteurs prédictifs d'une bonne connaissance de son statut vaccinal par le patient peuvent être dégagés. Cependant, le manque général de fiabilité de l'interrogatoire des patients rend de plus en plus courante la pratique de tests rapides de détection de l'immunoprotection dans les services d'urgence. Toutefois, la mise en oeuvre de certaines mesures simples pourrait, d'une part, éviter le surcoût engendré par la réalisation systématique d'un test rapide, et replacerait d'autre part, le patient et son médecin traitant au coeur de la gestion du calendrier vaccinal.
Fichier principal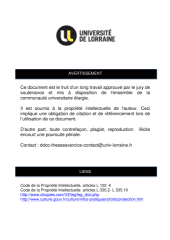 BUMED_T_2012_VILLAUME_MARIE.pdf (3.57 Mo)
Télécharger le fichier
Origin : Files produced by the author(s)