Modes of entry into systemic family therapy. One year?s experience of the CIRFA.
Modes d'entrée en thérapie familiale systémique : expérience du CIRFA de Nancy sur une année
A partir de quel moment considère-t-on que quelqu'un est entré dans un travail de thérapie familiale systémique ? Dans une première partie, l'auteur expose les principaux concepts de la théorie familiale systémique et constate que pour les systémiciens le travail thérapeutique commence dès le premier contact téléphonique. Ainsi, le recueil de données, par une fiche d'appel téléphonique, prend en compte la famille ou le couple comme unité et va conditionner les entretiens subséquents. Dans cette perspective, l'auteur effectue une étude descriptive et rétrospective des premiers contacts téléphoniques reçus au CIRFA (Centre d'Initiatives et de Recherches sur la Famille) de Nancy sur une année, assortie d'un follow-up de deux mois. L'objectif principal consiste à décrire les caractéristiques de ce recueil de données. L'objectif secondaire est de voir s'il existe des caractéristiques particulières, retrouvées dans les circonstances du premier contact téléphonique, qui pourraient expliquer les situations où il observe une défection des clients pour la première consultation clinique. D'une part, les résultats de cette étude montrent que pour l'année 2009, 4 thérapeutes du CIRFA réceptionnent 23 demandes de thérapie familiale systémique. Ces 23 fiches téléphoniques constituent la base de l étude. D autre part, la première consultation est toujours effective lorsqu'un professionnel de santé adresse les usagers au Centre. De plus, il semble que le fait de bénéficier en première intention d'une thérapie individuelle au sens large contribue à l'élaboration d'une perspective de thérapie familiale systémique. En dernier ressort, l'objectif secondaire de l'étude ne cerne aucune caractéristique significative. Et les deux mois de follow-up mettent en évidence la réduction à 16 puis à 14, contre les 23 thérapies initiales. Ainsi, les abandons en cours de travail thérapeutique s'expliquent pour partie par les spécificités de la demande de thérapie familiale330.
Fichier principal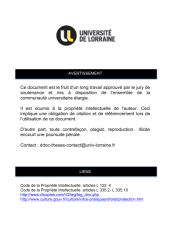 SCDMED_T_2010_SUI_SENG_DAVID.pdf (1.4 Mo)
Télécharger le fichier
Origin : Files produced by the author(s)