Factors influencing triage decisions of critically ill patients and aftermath on survival.
Facteurs influençant le tri des patients à admettre dans une réanimation médicale et survie des patients
Objective: To describe triage decisions process and subsequent outcomes on patient referred for but refused to ICU, comparatively to patients admitted. To assess the accuracy of ICU physicians in the prediction of outcome versus the M.P.M[indice]O score. Design: Prospective descriptive single-center cohort study.Setting: Eleven beds medical ICU in an acute-care 945-bed, tertiary care teaching hospital. Measurements and results: Time of referral, age, underlying diseases, admission diagnoses, Mortality Probability Model (MPM[indice]O) score, information available to ICU physicians, reasons for refusal, physician?s prognosis of survival, and mortality were recorded. Of the 732 patients (91% medical), 236 (32.2%) were refused. Reasons for refusal were patient location, bed availability, last bed available phenomenon, refusal through telephone, patient age, medical reason, underlying disease, and disability. Mortality among refused patient is higher (38.5% vs. 24.8%), even when patients are secondarily admitted to ICU (53.8% vs.24.8%). Physicians are wrong half the time when they are asked to make survival assessment of refused patients with the most critical condition, besides that MPM[indice]O did better. Conclusion: Refusal of ICU admission is a complex process, and is related to patient?s dependant factors, and to logistic factors such as bed availability. Scores that are more accurate than MPM[indice]O are needed, but in the meantime this one can still be useful for limiting the triage's mistakes done by physicians for the most severe condition patients. The increase of intermediate care beds are needed to limit these factor in order comply to fair allocation of scarce ICU?s resources.
Le but de cette étude prospective observationnelle est d'établir un état des lieux sur les pratiques professionnelles de notre réanimation afin de déterminer les facteurs intervenant dans le processus de tri des patients à admettre, d'étudier la survie des refusés et de comparer la précision du réanimateur dans sa prédiction de mortalité, face au score MPM[indice]O. 732 patients (236 refusés/496 admis) ont été inclus sur un an.Les facteurs identifiés comme à risque de refus sont logistiques (demande téléphonique, hospitalisation au C.H.U, absence de lits, dernier lit restant) et liés au patient (âge, motif médical, pathologies chroniques, cancers métastasés). La mortalité des patients refusés ou admis secondairement en réanimation est plusélevée. Le réanimateur se trompe une fois sur deux quand il prédit la survie des patients les plus graves. Ce travail confirme la difficulté du processus décisionnel dans le tri des patients à admettre en réanimation. L'utilisation du score M.P.M[indice]O pour les patients les plus graves pourrait limiter le risque d'erreur. L'augmentation du nombre de lits de soins intermédiaires et une meilleure définition de la réanimation d'essai, pourraient limiter les facteurs logistiques de refus. Le recueil systématique du souhait du malade vis-à-vis de soins invasifs en cas d'aggravation de sa pathologie semble fondamental pour respecter sa volonté, faciliter la décision du clinicien et contribuer à une meilleure allocation des ressources limitées de réanimation.
Fichier principal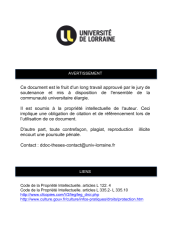 SCDMED_T_2011_LAI_ALEXANDRE.pdf (905.29 Ko)
Télécharger le fichier
Origin : Files produced by the author(s)