Report of a first year of a day-case digestive and endocrine surgery service at the University Hospital.
Bilan d'une première année de chirurgie ambulatoire dans un service de chirurgie endocrinienne et digestive de CHU
Le développement de la chirurgie ambulatoire parait inéluctable pour des raisons économiques et d'amélioration de la qualité de la prise en charge des patients. En chirurgie digestive et endocrinienne, les recommandations des sociétés savantes incluent essentiellement la prise en charge des hernies inguinales et les cholécystectomies. Cette étude rétrospective concernent tous les patients ayant été pris en charge pour la cure d'une hernie inguinale et/ou pour une cholécystectomie durant l'année 2010 au CHU de Nancy Brabois. L'objectif de cette étude était de déterminer d'une part les facteurs de non éligibilité à la chirurgie ambulatoire et d'autre part, les facteurs d'échec de la prise en charge en ambulatoire. Cinquante huit patients ont bénéficié d'une prise en charge en ambulatoire (42 pour cures de hernie, soit 65 % et 16 pour cholécystectomie, soit 18 %). Pendant la même période, 94 patients ont été opérés de la même pathologie en hospitalisation conventionnelle. Les principaux critères de non éligibilité de la prise en charge en ambulatoire était le caractère prévisible de la difficulté de l'intervention, un risque hémorragique lié à la prise d'anticoagulants, un score ASA supérieur à 3 ou la présence d'une comorbidité sévère ou un IMC supérieur à 32 kg/m². Pour 18 patients, aucun critère de non éligibilité n'a pu être mis en évidence. En ce qui concerne les patients opérés en secteur ambulatoire, il y a eu 8 admissions non programmées (14 %), 3 consultations non programmées et aucune hospitalisation non programmée. La principale cause d'admissions ou consultations non programmées étaient des douleurs postopératoires. Le taux de satisfaction était de 86 %. Le taux d'éligibilité à l'ambulatoire est bon pour les cures de hernie mais est inférieur aux données actuelles de la littérature pour les cholécystectomies. Il peut être amélioré puisque 19 % des patients pris en charge en chirurgie conventionnelle n'avaient aucun facteur d'exclusion. La qualité de la prise en charge en ambulatoire a été élevée et similaire aux autres séries de la littérature. Elle peut être optimisée par une meilleure prise en charge de la douleur postopératoire et une meilleure organisation du bloc.
Fichier principal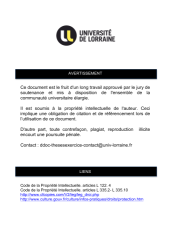 BUMED_T_2012_FIXOT_KEVIN.pdf (621.64 Ko)
Télécharger le fichier
Origin : Files produced by the author(s)