New clinical practice recommendations about the management of bronchiolitis in infants: current situation in a pediatrics department at Hospital Notre Dame de Bonsecours METZ (57000) season winter 2011/2012.
Nouvelles recommandations sur la prise en charge de la bronchiolite du nourrisson : état des lieux dans un service de pédiatrie à l'hôpital Notre Dame de Bonsecours à METZ (57000), saison hiver 2011/2012
La bronchiolite du nourrisson constitue un enjeu de santé publique. C'est la pathologie respiratoire hivernale la plus fréquente durant la première année de vie. Sa prise en charge porte pourtant toujours à controverse. Elle consiste principalement en un traitement symptomatique limité à des règles hygiéno-diététiques. Cette étude a pour objectif d'étudier la conformité des pratiques messines aux recommandations de la conférence de consensus de 2000 et celles plus récentes de l'AFSSAPS publiées en 2010. 79 nourrissons ont été inclus du 01/10/2011 au 31/03/2012 à l'hôpital Notre Dame de Bonsecours. Le recueil de données a été réalisé majoritairement de manière prospective par un questionnaire rempli par les internes du service. On retrouve une bonne application des recommandations tant sur les critères d'hospitalisation que la prise en charge médicamenteuse et non médicamenteuse. Seule la kinésithérapie respiratoire reste systématiquement prescrite malgré de récentes études discutant son efficacité. Les antécédents cardiopulmonaires (p=0.006) et l'âge inférieur à 6 semaines (p=0.003) sont les seuls facteurs de risque retrouvés de manière significative. Il serait intéressant de proposer une révision de la conférence de consensus au vu des conclusions des études récentes concernant la place de la kinésithérapie respiratoire. En effet, elle ne permettrait pas d'améliorer l'évolution de la maladie. Des recommandations récentes redéfinissent les modes de prescription de l'oxygénothérapie et seront appliquées dès la prochaine épidémie. La bronchiolite du nourrisson reste une pathologie courante au centre de la médecine ambulatoire et hospitalière hivernale. Une mise à jour des recommandations semble essentielle et est actuellement discutée.
Fichier principal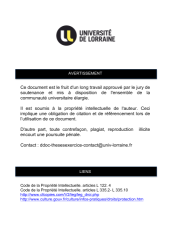 BUMED_T_2012_JECKEL_SOPHIE.pdf (2.95 Mo)
Télécharger le fichier
Origin : Files produced by the author(s)