Implementation of home blood pressure measurement by French general practitioners in 2009 : do the recommendations of HAS and ESH influence the practice in comparison with the 2004 survey?
L'utilisation de l'automesure tensionnelle par les médecins généralistes en 2009 : les recommandations de l'HAS et de ESH ont-elles eu un impact sur la pratique de l'automesure par rapport à l'enquête de 2004?
Objectifs : Principal : évaluer l'utilisation de l'automesure tensionnelle par les médecins généralistes en pratique courante en 2009. Secondaires : évolution de la pratique entre 2004 et 2009, perception des bénéfices ainsi que des limitations de la méthode, adhésion aux recommandations de l'HAS et/ou de l'ESH. Méthode : Enquête téléphonique nationale auprès de 500 médecins généralistes entre avril 2008 et mars 2009. Questionnaire de 12 items. Résultats : 500 médecins ont répondu. 214 appartenaient à l'effectif de 2004. Les utilisateurs sont passés de 70% à 92% entre 2004 et 2009. La plupart des médecins étaient des utilisateurs occasionnels, seuls 21% l'utilisaient chez la majorité des patients. Les médecins utilisateurs et non utilisateurs pointaient en avant le manque de fiabilité des appareils (19 et 47%), le manque de confiance aux résultats rapportés par le patient (27 et 24%) et l'anxiété (47% et 29%). Les principales bénéfices sont avant tout la détection de l'effet blouse blanche (70%), l'adaptation et suivi thérapeutique (36%), l'aide au diagnostic (25%) et l'observance thérapeutique (14%). Les notions d'hypertension masquée et de l'intérêt pronostique sont peu connues des médecins (2% et 0.7%). Les contre-indications de la méthode ne sont pas connues. Le respect de la méthodologie des recommandations était faible, 17% respectaient les recommandations minimales (3 mesures matin et soir pendant au moins 3 jours avec un brassard huméral) et moins de 1% les respectaient scrupuleusement. Conclusion : Malgré une utilisation accrue de l'automesure suite aux recommandations, leurs applications restent insuffisantes, amputant ainsi les bénéfices de la méthode.
Fichier principal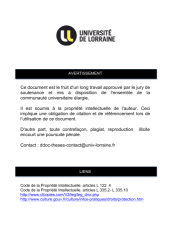 SCDMED_T_2010_TSOU_GAILLET_TZU_JEN.pdf (2.43 Mo)
Télécharger le fichier
Origin : Files produced by the author(s)