Non-ST segment elevation myocardial infarction; Influence of gender on treatment and clinical outcome. About a consecutive series of 596 patients at the Nancy University Hospital.
Infarctus du myocarde sans sus décalage persistant du segment ST. Influence du sexe sur la prise en charge et l'évolution clinique. A propos d'une série consécutive de 596 patients au CHU de Nancy
Souvent considérée comme une maladie d'homme, la maladie coronaire estnéanmoins la première cause de mortalité chez la femme. Le but de notre étude rétrospective et monocentrique a été d'étudier les différences de prise en charge et de pronostic entre hommes et femmes face à la maladie coronaire, dans le cadre particulier de l'IDM non ST+.L'objectif principal était la comparaison entre hommes et femmes de la survenued'au moins un des évènements du critère combiné décès cardio-vasculaire / IDM/ revascularisation à long terme.Notre étude a porté sur 596 patients consécutifs (168 femmes et 428 hommes)ayant été hospitalisés dans l'unité de soins intensifs cardiologiques du CHU deNancy entre Janvier 2006 et Juin 2008 pour IDM non ST+.Les résultats de notre étude ont montré que les femmes étaient plus âgées, plussouvent hypertendues et moins souvent tabagiques que les hommes. Leur délai deprise en charge était plus long et leur risque ischémique plus élevé.Malgré cela, elles bénéficiaient moins souvent d'un traitement invasif, etlorsqu'une coronarographie était réalisée, celle-ci retrouvait plus souvent deslésions relevant d'un traitement médical. Le suivi de la population a montré qu'àterme, les femmes bénéficiaient moins fréquemment du traitement médicamenteux actuellement recommandé en prévention secondaire de l'IDM nonST+.Aucune différence n'était retrouvée concernant le pronostic à un mois, mais letaux de décès cardio-vasculaire / IDM / revascularisation à long terme étaitsignificativement plus élevé chez les femme (36.5% vs 24.7%, p=0.008). Au final, le sexe féminin apparaissait comme facteur de risque indépendant de décès cardiovasculaire / IDM / revascularisation à long terme.Les données de notre étude sont en accord avec celles de la littérature et montrent que les femmes, malgré un risque ischémique plus élevé, sont traitées de manière moins agressive et ont un plus mauvais pronostic à long terme.
Fichier principal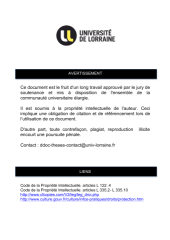 SCDMED_T_2011_CARILLO_SYLVAIN.pdf (1.38 Mo)
Télécharger le fichier
Origin : Files produced by the author(s)