Study of new treatment efficiency in mechanical chronic epiphora: Xeomin® injection in lacrimal gland or The difficulty of realize a clinical research for phase 2.
Etude de l'efficacité d'une nouvelle stratégie de traitement du larmoiement chronique mécanique par injection de Xeomin® (toxine botulique de type A) dans la glande lacrymale ou La difficulté de réaliser une étude de recherche clinique de phase 2.
Le larmoiement chronique est un symptôme invalidant pour un certain nombre de nos patients dans le domaine de l'ophtalmologie. Il n'existe à ce jour de traitement pleinement satisfaisant du larmoiement chronique mécanique. De ce constat et de la connaissance de l'effet anti cholinergique de la toxine botulique est née l'idée de l'utilisation hors AMM de la toxine dans cette indication. La littérature retrouve de nombreux cas rapportés sur le sujet avec des conclusions favorables tant sur l'efficacité que sur la bonne tolérance de la toxine botulique injectée dans le lobe palpébral de la glande lacrymale. Si de nombreux cas rapportés existent, aucune étude randomisée en double aveugle n'a encore confirmé de manière scientifique l'hypothèse d'efficacité de la toxine botulique dans le larmoiement mécanique. La volonté de mener cette étude nous a amenés à rechercher un financement, un promoteur et à rédiger un protocole. Après de nombreux efforts, nous avons obtenu l'accord de l'Agence Nationale de Sécurité du Médicament et des Produits de santé mais pas du comité de protection des personnes se prêtant à la recherche biomédicale,devant lequel nous avions présenté notre projet. Face à ce contre temps majeur, nous ne pouvons vous présenter avec grand regret nos résultats et nous vous exposons notre protocole finalisé et les difficultés que nous avons rencontrées pour mener à bien cette étude de recherche clinique médicamenteuse de phase 2.
Fichier principal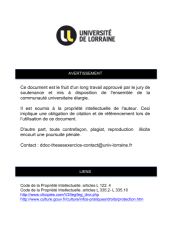 BUMED_T_2012_LE_CORRE_ANNE.pdf (2.29 Mo)
Télécharger le fichier
Origin : Files produced by the author(s)