Reality of the follow-up of elderly diabetics in general medicine.
Réalité du suivi des personnes âgées diabétiques en médecine générale. Etude rétrospective dans un cabinet de groupe en secteur semi-rural
Dans une population vieillissante, et alors que l'obésité progresse inexorablement, lediabète de type 2 représente un véritable problème de santé publique. Chez le sujet âgé, il constitue un facteur de risque de fragilité. La HAS a codifié le suivi des diabétiques mais ne donne aucune recommandation spécifique au sujet âgé. Comment les médecins généralistes appliquent-ils ces recommandations à leurs patients de plus de 65 ans ? Les sujets très âgés sont-ils moins bien suivis ? Un relâchement du suivi a-t-il un impact sur l'état de santé de ces patients ?Ce travail a permis de décrire le suivi médical de 99 patients de plus de 65 ans, diabétiques de type 2, appartenant à la patientèle de 4 médecins généralistes installés en secteur semirural. Lorsqu'il est comparé aux recommandations HAS, ce suivi apparaît insuffisant, notamment pour ce qui est du dépistage des complications micro et macrovasculaires. La confrontation de nos résultats à ceux du référentiel national qu'est l'étude ENTRED, retrouve de nombreuses similitudes. Le suivi est de moins bonne qualité chez les sujets plus âgés, mais surtout chez ceux susceptibles de présenter des complications et un état de fragilité. Notre étude n'a pas mis en évidence de lien entre relâchement du suivi et altération de l?état de santé des patients concernés.Le suivi du diabète ne semble pas devoir être modifié chez les sujets âgés. Il peutcependant être adapté à chaque patient, suivant son état de santé, son espérance de vie. Cela nécessite le dépistage de la fragilité, et l'éventuelle réalisation d'une évaluation gérontologique standardisée.
Fichier principal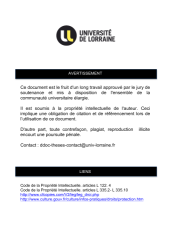 SCDMED_T_2011_BELLE_LUDIVINE.pdf (1.71 Mo)
Télécharger le fichier
Origin : Files produced by the author(s)