Infected hip, knee, and shoulder arthroplasties : assessment of a two-stage surgery after a 5-years minimal follow-up.
Infection sur prothèses articulaires : évaluation du traitement en deux temps à plus de cinq ans de recul.
Introduction : La survenue d'une infection sur prothèse articulaire compliquerait entre 0,5% et 2,5% dans la chirurgie de première intention. Le traitement fait appel au changement des implants, au cours d'une intervention unique ou de deux interventions successives avec, dans l'intervalle, implantation d'un spacer. L'objet de ce travail est d'évaluer l'efficacité d'un prise en charge en « 2 temps » sur le plan infectieux, clinique, et radiographique. Patients et Méthodes :Soixante-neuf patients (30 PTH, 36 PTG, et 3 PTE) ont été opérés dans notre Etablissement entre 1994 et 2004 d'un changement prothétique en « 2 temps ». Il ont été rétrospectivement recensés et reconvoqués en consultation pour une évaluation fonctionnelle et radiographique. Une récidive était diagnostiquée devant un écoulement chronique ou des prélèvements bactériologiques profonds.Résultats :A un recul moyen de 6,2 ans (74 mois) nous comptons 15 récidives (21,7% des patients), soit 10 PTG et 5 PTH. Aucune PTE n'a récidivé. Au dernier recul, le score fonctionnel des PTH est de 16,4 selon le PMA et 78,4 selon le HHS. Au genou, le KS final moyen est de 67,7. A l'épaule, le Constant pondéré est de 44% en moyenne.Discussion :Dans notre série, le traitement en « 2 temps » de l'infection périprothétique donne des résultats comparables à ceux de la littérature. Le taux de récidive ne paraît pas très supérieur au « 1 temps » mais le résultat fonctionnel pourrait, lui, être amélioré. Une des explications est probablement l'utilisation de spacers articulés qui donnent au patient une autonomie importante entre les 2 temps opératoires, mais au prix d'un nombre élevé de complications.Conclusion :La prise en charge en « 2 temps » est une technique efficace dans le traitement de l'infection péri-prothétique. Quel que soit la stratégie choisie, l'évaluation des résultats nous paraît manquer de vision d'ensemble. Cela nous a conduit à proposer une nouvelle classification des résultats du traitement, qui aurait également pour intérêt de pouvoir comparer plus facilement les publications scientifiques.
Fichier principal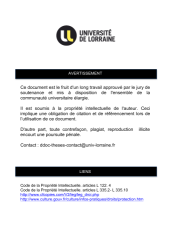 SCDMED_T_2010_STIGLITZ_YVES.pdf (6.64 Mo)
Télécharger le fichier
Origin : Files produced by the author(s)