The utility of the BNP and of the NT-proBNP in the etioligc diagnosis and patient's orientation in an emergency department with an acute dyspnea : Prospective study of 34 patients.
Intérêt du dosage du BNP et du NT-proBNP dans le diagnostic étiologique et l'orientation des patients admis dans un service d'urgence pour une dyspnée aigüe: étude prospective de 134 patients
This prospective study done in the emergency department of the Nancy university hospital included 134 patients with a mean age of 76,8 years, presenting an acute dyspnea. They have been on advantage to a NT-proBNP dosage. The object was to determine the interest of those dosages in the etiologic diagnosis of a dyspnea, compared to the diagnosis of an mergency room doctor. BNP and NT-proBNP rates are used as references in the diagnosis of congestive heart failure. Their correlations are generally recognized in this pathology in the international literature. 48% of this sample presents a BNP higher than 100pg/mL 75 % of which is higher than 400pg/mL. For a treshold of 100pg/mL, which is a positive predictive value 82% and the negative predictive value 76%. NT-proBNP regains 72% of congestive heart failure, at a 1000 pg/mL treshold, with 85% sensitivity, 46% specificity, a positive predictive value of 67%, of and a negative one of 70%. BNP would have restored the diagnosis of congestive heart failure in 21,5% patients whose diagnosis of pulmonary disease has being hold. Their correlation betwwen BNP, NT-proBNP and creatinine has been confirmed. Therefore BNP seems to be a better reference in diagnosising congestive heart failure than the diagnosis of an emergency room doctor.
Cette étude prospective réalisée au service d'accueil des urgences du CHU de Nancy a recruté 134 patients présentant une dyspnée avec une moyenne d'âge de 76,8 ans. Les patients ont bénéficié d'un dosage du NT -proBNP et du BNP. Le but était de rechercher leur intérêt dans le diagnostic étiologique d'une dyspnée comparé à celui posé par le médecin des urgences. Les taux de BNP et de NT -proBNP servent de référence pour le diagnostic d'insuffisance cardiaque. Leurs corrélations sont largement reconnues pour cette pathologie dans la littérature internationale. 48% de cet échantillon présentent un BNP supérieur à 100 pg/mL dont 75% sont supérieur à 400pg/mL. Pour un seuil de 100 pg/mL, la sensibilité est à 82%, la spécificité à 76%, la VPPà 82% et la VPN à 76%. Le NT -proBNP retrouve 72% d'insuffisance cardiaque, pour un seuil à 1000 pg/mL, avec une sensibilité de 85%, une spécificité de 46%, une VPP 67% de et une VPN de 70%. Le BNP aurait permis de rétablir le diagnostic d'insuffisance cardiaque pour 21,5% des patients chez qui le diagnostic d'affection pulmonaire était retenu. La corrélation entre BNP, NT -proBNP et créatinine a été confirmée. Le BNP semble donc plus performant que le médecin des urgences dans le diagnostic d'insuffisance cardiaque.
Fichier principal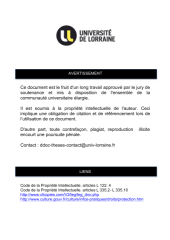 SCDMED_T_2005_BLANCHOT_SYLVAIN.pdf (3.15 Mo)
Télécharger le fichier
Origin : Files produced by the author(s)