The roles of community pharmacists in onychomycosis management. Adaptation of strategies following the geographic origin.
Rôle du pharmacien d'officine dans la prise en charge des onychomycoses. Adaptation des stratégies selon l'origine géographique.
Les onychomycoses sont des affections atteignant les ongles des mains ou des pieds. Bien qu'elle ne mette pas la vie en danger, ces pathologies courantes et cosmopolites altèrent la qualité de vie et entraînent une gêne d'ordreesthétique et psychologique. En effet, l'ongle atteint devient épais, friable et décoloré. Les agents pathogènes en cause dans les onychomycoses sont habituellement des dermatophytes. Mais d'autres champignons peuvent être impliqués, tels que les levures ou les moisissures. Par ailleurs, les agents en cause dans les onychomycoses et leur répartition diffèrent d'un continent, d'un pays ou d'une région à l'autre.Cette thèse a pour but, tout d'abord, de faire un état des lieux des divers pathogènes impliqués dans les onychomycoses en abordant les facteurs favorisant leur apparition ainsi que leurs tableaux cliniques et méthodes d'identification, et les traitements visant à leur éradication. L'épidémiologie et la prévalence de ces onychomycoses sont ensuite présentées en fonction des zones géographiques.Enfin, le rôle du pharmacien d'officine face aux onychomycoses est détaillé selon la localisation géographique. Du fait de sa proximité avec les patients et par sa plus grande accessibilité dans les villes ou villages, le pharmacien d'officine fait en effet souvent l'objet de demandes d'antifongiques locaux pour les onychomycoses.Cependant il doit systématiquement analyser le contexte avant de dispenser un antifongique local.
Fichier principal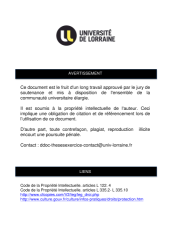 BUPHA_T_2012_SOORAJEE_ANEKA.pdf (3.19 Mo)
Télécharger le fichier
Origin : Files produced by the author(s)