Assessment of antihypertensive treatment prescription in the elderly.
Evaluation de la prescription des antihypertenseurs chez le sujet âgé
Cette étude épidémiologique, évaluative, observationnelle a inclus 102 patients hypertendus et âgés de plus de 70 ans, hospitalisés dans le service MGA de médecine gériatrique aiguë, de l'hôpital Félix Maréchal de Metz-Plappeville entre le 02 octobre 2009 et le 07 mai 2010. L'objectif principal était d'évaluer si les prescriptions des thérapeutiques anti-hypertensives instaurées en médecine générale étaient en accord avec les recommandations, en particuliereuropéennes et françaises, concernant le traitement de l'hypertension artérielle des sujets âgés et très âgés. Les objectifs secondaires concernaient la iatrogénie de ces traitements, avec la recherche d'effets indésirables imputables aux traitements antihypertenseurs, et la vérification de l'atteinte des objectifs tensionnels théoriques. Les 102 patients ont bénéficié d'une mesure tensionnelle au repos aux 2 bras et de la recherche d'une hypotension orthostatique. Lesdonnées ont été aussi recueillies à partir des dossiers standardisés, de l'historique des prescriptions pharmacologiques lors de l'hospitalisation et des courriers de sortie. Les patients étaient âgés en moyenne de 83,4 ans. La clairance moyenne de la créatinine était de 53,9 ml/min/1,73m2 (formule MDRD). 13% des patients de plus de 80 ans prenaient plus de 3 antihypertenseurs. Les diurétiques de l'anse étaient les molécules les plus prescrites (17,5% des prescriptions) et 39% des prescriptions de furosémide étaient hors AMM. Seuls 20% des monothérapies, 40% des bithérapies et 12,9% des trithérapies étaient en accord avec lesrecommandations 2005 de l'HAS. 26,5% des patients n'avaient pas atteint les objectifs tensionnels recommandés. La plupart des effets indésirables étaient liés à la prise de diurétiques.
Fichier principal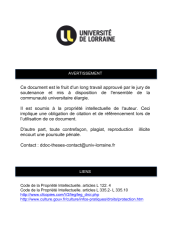 SCDMED_T_2011_MARTINONI_JULIE.pdf (1.6 Mo)
Télécharger le fichier
Origin : Files produced by the author(s)