Prevalence of alcohol in people supported in the elderly health networks in Lorraine.
Prévalence de la consommation d'alcool chez les personnes prises en charge dans les réseaux de santé personnes âgées en Lorraine. Etude transversale sur 1241 cas
Contexte : Bien que les personnes âgées soient particulièrement vulnérables aux effets nocifs de l'alcool, très peu de travaux ont été consacrés à leur consommation. Objectifs: Déterminer les niveaux de consommation d'un échantillon d'une population prise en charge par les réseaux gérontologiques de Lorraine et les caractéristiques des consommateurs excessifs. Méthodes : Etude descriptive réalisée dans huit réseaux gérontologiques. Pour chaque patient nouvellement inclus un « questionnaire alcool » est réalisé. Il renseigne sur la consommation d'alcool, les données sociodémographiques et les antécédents médicaux. Deux seuils sont retenus pour définir les consommateurs excessifs : ceux de l'OMS et ceux de l'AGS. Résultats : 1241 patients ont été inclus dans l'étude (65 % de femmes, âge moyen 80,7 ans). Deux tiers disent ne jamais consommer d'alcool, 30 % consomment entre un et trois verres par jour et 3,6 % plus de trois verres par jour. La prévalence des consommateurs excessifs s'élève à 4,5 % selon les seuils retenus par l'OMS et à 10,3 % selon ceux de l'AGS. Ils sont plus souvent de sexe masculin, plus jeunes et estiment insatisfaisant le soutien de leur entourage. Ils présentent également davantage de troubles nutritionnels et du comportement. Conclusion : Les prévalences des consommateurs excessifs de notre étude sont proches de celles retrouvées dans la littérature européenne. Des progrès doivent être réalisés afin de mieux dépister et traiter les problèmes liés à l'alcool chez les personnes âgées.
Fichier principal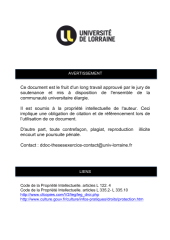 BUMED_T_2012_PETITDEMANGE_ANNA_FLEUR.pdf (3.11 Mo)
Télécharger le fichier
Origin : Files produced by the author(s)