Methods and levels of payment of the general practitioners : opinion of the physicians and patients of Lorraine. A dual qualitative and quantitative approach.
Modes et niveaux de rémunération des médecins généralistes : opinions des omnipraticiens et des patients lorrains. Une double approche qualitative et quantitative
Différents modes coexistent pour rémunérer les médecins généralistes, et chacun d'entre eux aboutit à des incitations, positives et négatives, qui lui sont propres. Chaque pays a d'ailleurs choisi un schéma de rémunération unique, avec son historique et son évolution. La plupart des pays européens s'orientent cependant actuellement vers un système mixte, permettant de retenir les avantages de chaque mode tout en en limitant les inconvénients. La France tente timidement d'amorcer le même virage : l'augmentation régulière des forfaits durant la dernière décennie et l'instauration récente d'un paiement à la performance viennent modérer la toute-puissance du paiement à l'acte, méthode de référence dans notre pays. C'est dans ce contexte que nous avons souhaité connaître les avis des patients quant aux niveaux et modes de rémunération de leur médecin généraliste. Une étude quantitative par questionnaire sur lieu neutre a mis en évidence que les individus appréhendent correctement les niveaux de revenus des omnipraticiens, qu'ils mettent en relation avec leur important temps de travail. Ils semblent attachés au paiement à l'acte, tout en approuvant un système mixte. Une étude qualitative par focus group a également été réalisée avec des médecins généralistes lorrains, afin de connaître leurs opinions et représentations sur le sujet. Elle tend à montrer que ces derniers restent attachés au paiement à l'acte, notamment pour la liberté qu'il induit et pour le niveau de revenu correct et malléable qui en découle. Les autres modes sont peu ou mal connus. Le paiement à la performance induit une méfiance du fait de sa nouveauté, et probablement en raison d'incompréhensions antérieures entre médecins et caisses de sécurité sociale. Une base fixe par capitation et une partie variable selon l'activité sembleraient un bon compromis pour s'orienter vers la voie des paiements mixtes.
Fichier principal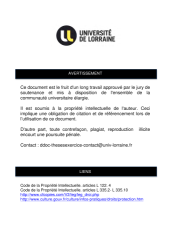 BUMED_T_2012_MESSEIN_NICOLAS.pdf (4.63 Mo)
Télécharger le fichier
Origin : Files produced by the author(s)