Nancy University Hospital anti-rabies consultation. Assessment and proposal for harmonisation of medical practices.
Consultation antirabique au CHU de Nancy: évaluation et proposition d'harmomnisation des pratiques médicinales
La rage est une encéphalo-myélite virale touchant certains mammifères et accidentellement l'homme par la morsure d'un animal contaminé. Elle tue 30 000 à 50 000 personnes par an à travers le monde, principalement dans les pays en développement où la situation reste préoccupante.Dans une première partie , l'auteur rappelle des notions générales sur la rage, en abordant brièvement l'historique, puis l'agent causal et la pathogénie de l'infection rabique, les données épidémiologiques récentes, la clinique et la thérapeutique.Dans une deuxième partie, l'auteur évalue l'activité du centre antirabique de Nancy à partir des consultations réalisées du 1er janvier 1998 au 31 décembre 1999. La majorité des blessures animales (65,5 %) sont causées par le chien et ont lieu entre maiet août. Le contact avec le virus rabique est avéré dans 0,3 % des cas, infirmé avec certitude pour 46,8 % des patients et inconnu ou non documenté pour 52,9 % d'entre eux. Un traitement antirabique a été prodigué à 48,8 % des consultants. L'auteur étudie les prescriptions médicales concernantla prévention du tétanos, l'antibiothérapie et le traitement antirabique, mettant en évidence par une analyse multivariée une différence d'attitude statistiquement significative selon les prescripteurs pour l'antibiothérapie, la décision de traitement antirabique et la sérothérapie antirabique. Dans sa discussion, l'auteur compare les résultats de cette étude aux données nationales et de la littérature.Au terme de ce travail , il propose un nouveau support pour la consultation antirabique etune harmonisation des conduites à tenir après exposition potentielle au virus rabique.
Fichier principal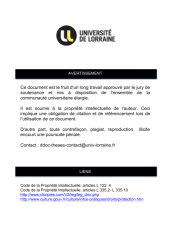 SCDMED_T_2000_DEL_VALLE_JEAN.pdf (5.21 Mo)
Télécharger le fichier
Origin : Files produced by the author(s)