Prévention Santé par l'APA chez le rameur compétiteur sujet aux lombalgies
This study was conducted among seventeen competitors rowers to hightlight the disturbing report: competitors rowers and low back pain, and to propose an answer in the form of Adapted Physical Activites (APA) in purpose of health-prevention of this pathology in this sport. After a first assessment of the rowers's habitus in his practice and his daily life throughout 2015, a management APA protocol for rowers suffering or having suffered of low back pain(s) has been proposed them, over a period of eight weeks, at three sessions per week. While remaining prudent with the results achieved, it turns out undeniable that an health prevention based on muscle strengthening of trunk, associated of stretching and flexibility impact positively the rower subject to low back pain.
Cette étude a été conduite auprès de 17 rameurs compétiteurs afin de mettre en évidence le rapport inquiétant rameurs compétiteurs et lombalgie, et de proposer une réponse sous forme d'Activités Physiques Adaptées dans un but de prévention-santé de cette pathologie, dans cette pratique sportive. Après un premier bilan des habitus du rameur dans sa pratique et sa vie quotidienne au cours de l'année 2015, un protocole de prise en charge APA des rameurs souffrant ou ayant souffert de lombalgie(s) leur a été proposé sur une période de 8 semaines à raison de 3 séances par semaine. Tout en restant prudent quant aux résultats obtenus, il s'avère indéniable qu'une prévention-santé axée sur un renforcement musculaire du tronc associé à des étirements et assouplissements impactent positivement le rameur sujet aux lombalgies.
Fichier principal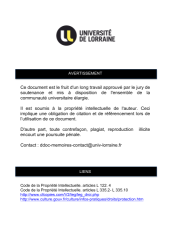 BUS_M_2016_DUBUISSON_CECILE.pdf (4.52 Mo)
Télécharger le fichier
Origin : Files produced by the author(s)