Application des recommandations de l'OMS à propos de l'Hémorragie du Post-Partum Immédiat : analyse des pratiques des sages-femmes et accoucheuses auxiliaires du Centre de Boussé (Burkina-Faso) entre le 14 juillet et le 4 août 2014
Despite of WHO's guidelines (World Health Organization),Postpartum Haemorrhage (PPH) are still the leading cause of maternal mortalityin Burkina-Faso. Indeed, women are a very vulnerable population in a fragile sanitary situation.Individual and collective interviews have been made with midwives and auxiliary midwives in both maternity of the medical center in Boussé.We compared their clinical practice with WHO's recommendations for prevention and treatment of PPH. Therefore, we noticed that negative attitude of midwives and auxiliary with the patients, a lack of transmitted or given informations, misused of diagnostic tools, and the period for PPH management, could avoid them to ensure effective care. We have seen that midwives and auxiliary could improve prevention and treatement of PPH mainly by working on several means topromote prevention.
Malgré les recommandations de l'OMS (Organisation Mondiale de la Santé, les hémorragies du postpartum immédiat (HPP) représentent un risque important de morbi-mortalité maternelle au Burkina- Faso. Les femmes burkinabées sont une population particulièrement vulnérable dans un contextesanitaire précaire. Des entretiens individuels et collectifs ont été menés auprès des sages-femmes et accoucheuses auxiliaires des deux maternités du centre sanitaire de Boussé. Nous avons mis en parallèle leurs pratiques professionnelles avec les recommandations de l'OMS. Nous avons relevé que l'attitude des professionnelles avec les patientes, le manque d'informations transmises ou recueillies, le mésusage de certains outils diagnostic ainsi que les délais de PEC, entravaient une application optimale des recommandations. Nous avons alors pu constater que les SF et AA pourraient améliorer la PEC globale des HPP, principalement en travaillant sur les moyens de favoriser la démarche préventive.
Fichier principal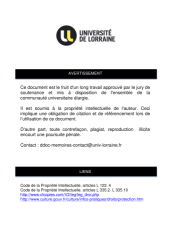 BUMED_MESF_2015_VALLET_JULIA.pdf (415.52 Ko)
Télécharger le fichier
Origin : Files produced by the author(s)