L'autonomie du stage de Préparation à la Naissance et à la Parentalité dans la formation initiale des sages-femmes à Nancy : évaluation du stage par les étudiants sages-femmes nancéiens de 4ème et 5ème année en 2014 et 2015
OBJECTIVE: The main objective of our study was defining the impacts of autonomy in the initial midwifes formation in Nancy. For it, we studied a precise pedagogic format : the internship of « preparation to birth and parenthood » in complete autonomy in the MRUN between 2013 and 2015. Our secondary objective was to access preparation of the internship, accompaniment during this internship as well as its evaluation. METHOD: We accomplished a descriptive, transverse and observational study by realizing an investigation by questionnaire accessing the experience and the feeling of the students in relation to the autonomy which is given to them during the course of them internship of « preparation of birth and parenthood » in 4th year. RESULTS : Autonomy during the internship can be destabilising and frightening but once the outdates difficulties, autonomy in the formation favours future autonomy in internship, assistant to the control of knowledge, makes communication easier, allows a real personal investment of the student in is training and procreates his projection in its future job of responsibility. Besides, the preparation of internship seems to satisfy the midwifes students. To finish, the accompaniment before, hanging and after internship does not seem to suit the students. They suggest a supervision and time of exchange allowing a real dialogue to transform this experience positively and to draw many benefits for their future practice and their job.
OBJECTIFS: L'objectif principal de notre étude visait à définir les impacts de l'autonomie dans la formation initiale des sages-femmes de Nancy. Pour cela, nous avons étudié et évalué un format pédagogique précis : le stage de PNP en autonomie à la MRUN entre 2013 et 2015. Notre objectif secondaire était d'évaluer la préparation à ce stage, l'accompagnement au cours de ce stage ainsi que son évaluation. MÉTHODE : Nous avons réalisé une étude descriptive, transversale et observationnelle, en réalisant une enquête par questionnaire évaluant le vécu et le ressenti des étudiants vis à vis de l'autonomie qui leur est donnée au cours du stage de PNP en 4ème année. RÉSULTATS : L'autonomie en stage peut-être déstabilisante et angoissante mais une fois ces difficultés dépassées, l'autonomie dans la formation favorise l'autonomie future en stage, aide à la maîtrise des connaissances, facilite la communication, permet un réel investissement personnel de l'étudiant dans sa formation et engendre la projection de l'étudiant dans son futur métier à responsabilité. De plus, la préparation au stage semble satisfaire les ESF. Pour finir, l'accompagnement avant, pendant et après le stage ne semble pas convenir aux ESF. Ceux-ci suggèrent un encadrement et des temps d'échange permettant un réel dialogue afin de transformer positivement cette expérience et d'en tirer un grand nombre de bénéfices pour leurs stages et leur activité professionnelle futurs.
Fichier principal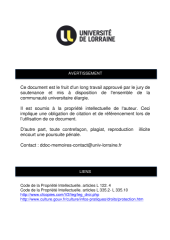 BUMED_MESF_2015_MIGLIOLI_MARIE.pdf (1.66 Mo)
Télécharger le fichier
Origin : Files produced by the author(s)