Revégétalisation d'une friche industrielle
Nowadays, a strong interest is rising for deserted industrials, especially because of their big areas and their proximity to large urban areas. The U4 project aims to show that abandoned industrials have value and can be converted. In order to achieve this, several means such as plant biomass production, improvement and restoration of ground quality will be implemented. To allow the right position of these modalities on the study area, it's necessary to know the ground features. Thus, flora inventories are carried out in order to know better the vegetation but also to locate nutrient-rich areas. A localisation of potential slabs below the surface of the ground is carried out thanks to a ground-probing radar and finally, an establishing of polluting metal content is made with a niton. By combining the results from these three works with the development conditions of the different vegetables in the modalities, the best place compromise can be found.
Actuellement, naît un fort intérêt pour les sites industriels abandonnés, notamment grâce à leurs grandes superficies et leurs proximités avec de grandes zones urbaines. Le projet U4 à pour objectif de montrer que les sites industriels laissés à l'abandon ont une valeur et peuvent être reconvertis. Pour se faire plusieurs modalités à buts de productions de biomasse végétale, d'amélioration et de réhabilitation la qualité du sol seront mis en place. Pour permettre le bon placement des modalités sur la zone d'étude, il est nécessaire de connaître les caractéristiques du sol. Pour se faire des inventaires floristiques sont réalisés, permettant de faire un état des lieux de la végétation mais aussi de localiser des zones plus riches en nutriments. Une localisation de possible dalles se trouvant sous la surface du sol est réalisée grâce à un géoradar et enfin une détermination des teneurs en polluants métalliques par le biais d'un niton. En combinant les résultats issus de ces trois travaux avec les conditions de développement des différents végétaux présents dans les modalités, le meilleur compromis de placement est trouvé.
Fichier principal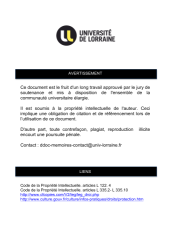 BUS_M_2016_ONISZKIEWIEZ_JIMMY.pdf (3.32 Mo)
Télécharger le fichier
Origin : Files produced by the author(s)