Analyses statistiques de 30 années de données ornithologiques recueillies par la méthode de comptage à vue
Birds lay among the top layers of the trophic chain. Thus, they are a good indicator for biodiversity. Therefore, monitoring natural sites implies to follow birds populations. These observations are done in order to evaluate these population evolution tendencies. Furthermore, these observations allow validating the operations to manage the natural site. As a result, I did a study inside the "Réserve Nationale Naturelle de Saint- Quentin-en-Yvelines". This site was created with consideration about the bird's life. The reserve through its 30 years life has been committed (with analytic analysis from its observations) to its objectives which are: - Preservation of the site through the evaluation of the iconic species - Analysis of interesting species to create other protected areas The results of the tendencies analysis both for increase and decrease confirmed the observations of the site's ornithologists. Unfortunately, for some species no conclusion could be drawn. In order to be accepted, the site administration had to be deepen on the conditions required to attract birds. Furthermore, the management also had to be adapted to the knowledge of the area.
Les oiseaux appartiennent à un des maillons supérieurs de nombreuses chaînes trophiques, ce qui leur confère un statut d'indicateur de biodiversité. Il est donc nécessaire de réaliser des suivis des populations aviaires sur les sites, pour donner un aperçu des tendances d'évolutions de ces espèces, mais également pour conforter ou non la gestion passée des habitats. C'est dans ce cadre que s'inscrit l'étude réalisée au sein de la Réserve Nationale Naturelle de Saint-Quentin-en-Yvelines, créée pour les enjeux liés à son site ornithologique. La volonté de la réserve, après 30 ans d'existence, est de répondre (sous la forme d'analyses statistiques de ses données de suivis) aux principaux objectifs de son Plan de gestion : la préservation du site en évaluant l'état actuel des populations emblématiques, ainsi que l'étude d'espèces d'intérêts pour un projet de créations de nouvelles aires protégées. Le résultat des tendances d'évolution des populations a permis de conforter le ressenti des ornithologues du site : tendances à la hausse ou à la baisse (ou non valide statistiquement / difficultés de donner une tendance) des espèces étudiées. Afin d'être validée, la gestion du site quant à elle, mériterait d'être plus approfondie sur les conditions propices au stationnement des oiseaux et le partage des connaissances avec la région.
Fichier principal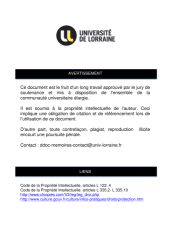 BUS_M_2016_CHEREAU_CLEMENCE.pdf (4.06 Mo)
Télécharger le fichier
Origin : Files produced by the author(s)