Gestion des ressources fourragères herbacées en agroforesterie intraparcellaire aux échelles du système d'alimentation et parcellaire
Agroforestery seems to be one of the solutions of attenuation and adaptation for livestock pathway faced with global warming. Few things are known nowadays on this practice in temperate environment with almost matures trees. That's why this study goes after determinate which are the impacts of agroforestery on micro-climate and pasture production, qualitative and quantitative. The establishment of areas exclosure was required to protect the pasture of the study's locations. A distance gradient tree is respected in the north and south in order to take measurements. The pasture production was diversely impacted by trees based on surveyed sites. Generally, the effect is more neutral than positive or negative. Grass family / leguminous plants and diverse rates are different in case of one site with widely spaced lines of trees (16 m) and oriented East-West, the light gradient being maximal. Phenological stages don't shown differences on function of tree position. The seeking of this survey is necessary to establish strong references on this subject.
L'Agroforesterie apparaît comme une des solutions d'atténuation et d'adaptation de la filière élevage au réchauffement climatique. Peu de choses sont connues à ce jour sur cette pratique en milieu tempéré avec des arbres presque mâtures. C'est pour cela que cette étude vise à déterminer quels sont les impacts de l'agroforesterie sur le microclimat et la production prairiale, qualitative et quantitative. La mise en place de zone de mise en défend afin d'exclure le pâturage des emplacements étudiés a été nécessaire. Un gradient d'éloignement à l'arbre est respecté au nord et au sud afin d'y réaliser des mesures. La production prairiale s'est avérée diversement impactée par les arbres en fonction des sites étudiés. Globalement, l'effet est plus neutre que positif ou négatif. Les taux de graminées/légumineuses et diverses se sont avérés différents dans le cas d'un site avec des lignes d'arbres très espacées (16m) et orientées Est-Ouest, le gradient lumineux étant alors maximal. Les stades phénologiques n'ont pas montré de différences en fonction des positions à l'arbre. La poursuite de l'étude est nécessaire pour l'établissement de références solides sur le sujet.
Fichier principal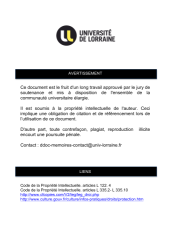 BUS_M_2016_SABOURIN_GUILLAUME.pdf (1.91 Mo)
Télécharger le fichier
Origin : Files produced by the author(s)