Modifications qualitative et quantitative en composés phénoliques dans les feuilles de hêtre soumises à des contraintes abiotiques
This study aims at clarifying secondary metabolite contribution to plant cell defense in beech exposed to water stress or defoliation. Both quantitative, through flavonol content evolution across growth period and biochemical analysis of total phenol content, and qualitative approches, through metabolic profil of eleven specific phenolic compounds, were used. A higher total phenol content was observed in drought treated trees compared to control. Furthermore, the lower carbon availability following defoliation treatment likely limits the flavonol biosynthesis capacity. This work supports the phenol contribution to defense against oxidative stress due to drought. This contribution however requires high carbon availability that can be restricted following defoliation or severe drought conditions. Finaly, Coumaroylquinic acid seems to be one of the main actors of secondary metabolite response to stress.
Cette étude vise à clarifier le rôle de métabolites secondaires dans la défense chez plusieurs populations de Hêtre soumises à un stress hydrique (modéré ou intense) ou une défoliation. Une approche quantitative, via des mesures de teneurs en flavonol au cours de la saison et des mesures biochimiques de teneur en phénols totaux, et une approche qualitative, via l'analyse du profil métabolique de onze phénols particuliers, ont été utilisées. Un niveau de composés phénoliques totaux significativement plus important a été observés sous sécheresse modéré et intense par rapport au contrôle. En outre, la faible disponibilité en carbone induite par le traitement défoliation semble avoir limité la capacité de synthèse de flavonols. Cette étude a mis en évidence la contribution des phénols dans la défense contre le stress oxydant dû à la sécheresse. Cette contribution nécessite cependant une forte disponibilité en ressources carbonées, celle-ci pouvant faire défaut lors de certains stress (défoliation, sécheresse intense). Finalement, l'acide coumaroylquinique, semble être un des acteurs majeurs de cette réponse du métabolisme secondaire aux stress.
Fichier principal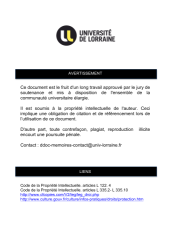 BUS_M_2016_HEYMES_RAPHAEL.pdf (1.07 Mo)
Télécharger le fichier
Origin : Files produced by the author(s)