Influence of carbon starvation and of TOR inhibition on Arabidopsis thaliana cell cultures
Carbohydrates are major molecules in plant development. They have multiple roles: they have a vital energy producing role, a structural importance by contributing to the cell wall synthesis and a signaling function. This signaling role is crucial and helps plants to adapt their metabolism to varying conditions in their environment. To relay this information some sensors are required. One of them is a kinase called TOR (Target Of Rapamycin) which is known to be upregulated by the presence of sugars. TOR activity stimulates growth, transcription and nutrient uptake. This kinase is activated in favorable condition and switched off by any kind of stress. Nevertheless TOR is not the only kinase which take part of carbon signaling and some responses to a carbon starvation are totally independent from it. This works propose to determine the metabolic and transciptomic responses to a carbon starvation and TOR inhibition and beyond them which are connected together. Arabidopsis thaliana cell cultures were used as model for their homogeneity and their ability to grow fast. A study of a new protocol to transform those cells is included. This study would lead to a better understanding of this TOR-sugars interaction. It could be use in the future to increase metabolite content in cell cultures like microalgae by adjusting the activity of TOR which could help for energy production.
Les sucres sont des molécules majeures pour le développement des plantes. Ils jouent de multiples rôles : ils ont une importance vitale dans la production d'énergie, possèdent un rôle structural en contribuant à la synthèse de la paroi et ont une fonction de signalisation. Ce rôle de signal est crucial et permet aux plantes d'adapter leurs métabolismes aux conditions changeantes de leur environnement. Ces signaux sont relayés par des senseurs qui sont requis pour transmettre l'information. L'un d'eux est une kinase appelée TOR (Target Of Rapamycin), est connu pour être stimulé en présence de sucre. Son activité favorise la croissance, la transcription et l'assimilation de nutriments. Cette kinase est activée en conditions favorables mais est désactivée par tout type de stress. Cependant TOR n'est pas la seule kinase qui participe au métabolisme carboné et certaines réponses causées par la carence carbonée sont totalement indépendantes de son activité. Ce travail a pour objectif de déterminer les réponses à la fois métaboliques et transcriptomiques provoquées par la carence carbonée et par une inhibition de TOR afin de pouvoir déterminer lesquelles sont communes parmi elles. Des cultures cellulaires d'Arabidopsis thaliana ont été utilisées comme modèle pour garantir une homogénéité dans le système d'études et pour leur capacité à pousser rapidement. Une étude d'un nouveau protocole pour transformer les cellules en question est inclue. Cette étude pourrait permettre une meilleure compréhension de l'interaction entre TOR et les sucres. Cela pourrait être utilisé dans le futur pour augmenter le contenu de certains métabolites d'intérêt dans des cultures cellulaires telles que les micro-algues en ajustant l'activité de TOR ce qui pourrait favoriser la production d'énergie.
Fichier principal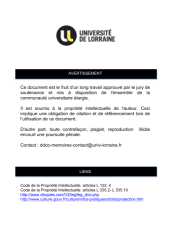 BUS_M_2016_GAUTHIER_KEVIN.pdf (2.63 Mo)
Télécharger le fichier
Origin : Files produced by the author(s)