Concevoir un accompagnement de formation par le sport au services des salariés : cas d'étude des solutions proposées par le société AbsoluSport
AbsoluSport is a formative corporation whose goal is to develop a new accompanying employees approach towards a personal development and a performance improvement thanks to a physical and sportive activity. The conception of this new method has enabled a reflection on sport and recreational activities contribution on the learning process of the collaborators, their memory, their mental and cognitive ability, but also on their individual growth within the company. This consideration, focused on a new method based on a long-term support, allow for a reliable analyze of it's impact. Why and how to propose a long-term accompaniment through sport in order to develop a company's performances? A reflection on the benefits of this formula permits the understanding of the main principles and stages of this method elaborated by AbsoluSport. Study and experimentation allow a first critical look on a booming concept.
AbsoluSport est une société organisme de formation souhaitant développer une nouvelle approche de l'accompagnement des salariés vers un développement personnel et une amélioration des performances par l'activité physique et sportive. La conception de cette nouvelle méthode a permis une réflexion sur les apports du sport et des activités ludiques sur l'apprentissage des collaborateurs, la mémoire, les capacités cognitives et mentales, mais aussi sur leur développement personnel dans l'entreprise. Cette réflexion, portée sur une nouvelle méthode basée sur un accompagnement à long terme, permet d'en étudier l'impact. Pourquoi et comment proposer des accompagnements à long terme par le sport pour développer les performances d'une entreprise ? Une réflexion autour des biens-faits de ce format permet de comprendre les grands principes et étapes de cette méthode développée par AbsoluSport. L'étude et l'expérimentation permettent de porter un premier regard critique sur un concept en plein développement.
Fichier principal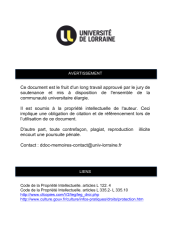 BUS_M_2016_DIEMUNSCH_KEVIN_MARASCO_CAMIL.pdf (11.03 Mo)
Télécharger le fichier
Origin : Files produced by the author(s)