Étude de la réversion de la résistance aux médicaments anthelminthiques chez le nématode Caenorhabditis elegans
Macrocyclic lactones are pharmaceutical drugs used in humans and animals health whose therapeutic success is compromised by the development of resistance. In that context, our objective was characterize the adaptation of the model nematode C. elegans to ML selection pressure. Sensitivities to MLs and to oxidative, thermal and osmotic stress were determined in ML-selected strains after the remove of selection pressure. ML-selected strains were defective in food chemotaxis and were more sensitive to paraquat. After the removal of MLs selection pressure in ML-selected strain, a reversion towards susceptibility for MLs was observed. Moreover, only MOX-selected strain was able to detect food when the drug selection pressure was absent. Otherwise, all the ML-selected strains have their lifespan decreased. This study provides new data about the mechanisms of resistance to MLs and reversion towards susceptibility in the nematode C. elegans.
Les lactones macrocycliques (LMs) sont des médicaments antiparasitaires utilisés en médecine humaine et vétérinaire dont le succès thérapeutiques est compromis par l'apparition de résistance. Il est donc nécessaire de caractériser l'adaptation de nématode modèle, C. elegans, à une pression de sélection à l'IVM et à la MOX. La sensibilité aux LMs, aux stress oxidatif, thermique et osmotique ont été étudiés chez des souches résistantes pour lesquelles la pression de sélection a été levée. Les souches résistantes aux LMs ont un défaut de chimiotactisme vis-à vis de la nourriture et une sensibilité accrue au paraquat. Lorsque la pression de sélection a été levée, un retour partiel à la sensibilité vis-à-vis des deux LMs est obtenu sur les deux souches résistantes. Tandis que seules les souches résistantes à la MOX retrouvent la capacité à détecter la nourriture. Par ailleurs, les vers résistants aux LMs présentent une diminution de la longévité. Cette étude amène de nouvelles informations sur les mécanismes mis en place lors de la résistance aux LMs et sa réversion chez le nématode C. elegans.
Fichier principal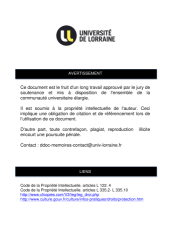 BUS_M_2016_GOULON_AMANDINE.pdf (2.19 Mo)
Télécharger le fichier
Origin : Files produced by the author(s)