Un rôle pour les bénéficiaires d'un chantier d'insertion dans l'évaluation de leurs compétences : réalité ou illusion ?
Identifying and evaluating competencies, in order to enhance them, is one of the issues at stake of the competencie dictionary and the process securing. It is a matter of sharing thoughts about support methods to enable recipients to be more involved in their evaluation process. The goal of this Master thesis is to understand how the current socioprofessional support enables recipients of a welfare-to-work program to integrate the RCSP development process. The interest of such a research is to suggest reflection strategies about recipients involvement in decision making and their specific evaluation process.
Repérer et évaluer des compétences dans le but de les valoriser est un des enjeux du référentiel compétences et sécurisation de parcours. Il s'agit ici de partager une réflexion sur les méthodes d'accompagnement mises en oeuvre afin de permettre aux bénéficiaires d'être plus impliqués quant aux systèmes d'évaluation qui les concernent. L'objectif de ce mémoire est d'appréhender comment l'accompagnement socioprofessionnel actuel permet aux bénéficiaires d'un chantier d'insertion de s'intégrer dans le processus de développement de l'outil RCSP. L'intérêt de cette recherche est donc de proposer des pistes de réflexion sur l'implication des bénéficiaires d'un chantier d'insertion dans les processus de décision et d'évaluation spécifique à leur parcours.
Fichier principal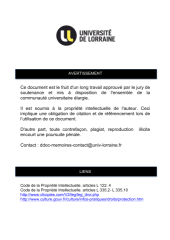 BUS_M_2016_MICHEL_ANNLYSE.pdf (1000.65 Ko)
Télécharger le fichier
Origin : Files produced by the author(s)